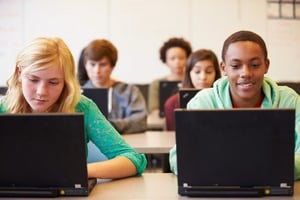 According to a report form the National Center for Public Policy and Higher Education, "nearly 60% of first-year college students discover that, despite being fully eligible to attend college, they are not ready for postsecondary studies."
Credo and Arkansas State University are embarking on a partnership to bring information literacy resources and instruction to regional Arkansas high school students in support of their college readiness. The Literati High School Partnership was unveiled recently at the Charleston Library Conference (see the slides). The collaboration will provide research instruction to high school students, helping prepare them for college success before they even arrive on a campus.
The partnership gives students access to Credo's Student Core Collection, with more than 400 ebook titles and millions of reference entries. The collection offers students in grades 7 to 12 level a wealth of insightful content covering topics related to secondary school studies, such as biology, physics, mathematics, social sciences, world cultures, world history, and more.
According to Jeff Bailey, Library Director at A-State's Dean B. Ellis Library, the "Literati High School partnership is a win for everyone."
"This is the perfect way for the librarians at the Dean B. Ellis Library to expand our work with area high schools," Bailey continued. "At the high school level, the teachers and students are gaining access to all of the great Credo content and support that will help students earn higher grades, graduate and get accepted into college. At the college level, Arkansas State University will have incoming freshmen from those high schools who are better prepared, require less remediation, and are more likely to graduate. Plus, those students already will be familiar with using Literati to help them complete their assignments."
Ian Singer, Credo Chief Content Officer at Credo, concurred, saying the partnership represents Credo's ongoing evolution as a company focused on positive learning outcomes for students.
"Programs such as this one will help students hit the ground running once they arrive on campus so they're not overwhelmed by the college academic experience," Singer said. "We are excited about the potential here, plus we're looking forward to working with Jeff and the team at Arkansas State University. Of great significance, we will be interested in tracking how the students who had access to Literati performed versus those students who didn't."