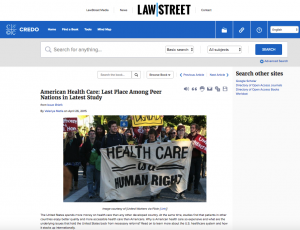 Topical world subjects examined objectively – ideal for students, librarians
Boston, October 27, 2016 — Credo–the industry leader for information literacy, critical thinking, and research solutions – has launched "Issue Briefs," designed for students performing research on a wide range of current topics. Each week, Credo will unveil three to four new Issue Briefs, which illuminate all sides of today's top issues featuring unbiased reporting.
Issue Briefs, published by Law Street Media, the leading law and policy site for Millennials, can be subscribed to through Credo Online Reference Service.
Articles are written concisely, averaging 1,750 words in length, and engage students with high-quality multimedia featuring videos, infographics, graphs and images. Among the current issues covered are politics, technology, health care, law, business and economics, energy and environment, health and science, and entertainment and culture.
"Students today are confronted with a wide variety of resources for their academic research. Wading through all the noise is a never-ending challenge, and students need a trusted source," said Daniel Mack, Associate Dean for Collection Strategies and Services, University of Maryland Libraries. "Issue Briefs are the perfect starting point for research."
"The Issue Briefs are the most up-to-date content of their kind, and they're rich in multimedia resources – providing a quick but comprehensive dive into hundreds of topics," Mack continued. "They're written by Millennial journalists who understand what today's students need."
According to Ian Singer, Chief Content Officer for Credo, librarians also will appreciate the new product as it adds a high degree of currency to their reference resources.
With a collection of more than 450 articles at launch, and with weekly updates, students and librarians can be assured many current and controversial topics have been addressed," Singer said. "The beauty of these Issue Briefs is they feature rigorous fact-checking standards and stringent editorial oversight to ensure objectivity. The presentation of all sides of an issue helps students craft coherent arguments early in the research process."
Credo has partnered with more than 2,500 libraries over the last 16 years to drive more effective and efficient student research activities. Since 2014, Credo has been developing instructional content while working with librarians to improve student research outcomes.
---