October 6th and 7th will mark the first ever Credo Education User Summit and Building Learning Communities Forum in Raleigh, NC. Existing and potential Courseware customers are invited to explore innovative ways to build stronger learning communities. Dr. Alison Head of Project Information Literacy will keynote Day 1 of the summit with, "What Happens to Learning After College?" On Day 2, Dr. Brent Keltner of Credo Education will present, "Skills for the New Economy." See the full schedule here.

Day 1, the first ever Credo Education User Summit, is an event designed for sharing best practices, working through common challenges, and communicating directly with the Credo product team about how to use the Courseware on campus. Credo looks forward to hearing subscriber feedback on the product roadmap and features, as well as thoughts on building a learning community around the Courseware.

On Day 2, presenters and attendees will delve further into learning communities to explore how building a network of people who share common academic goals and attitudes can positively affect the library, staff, faculty and students. Both existing and potential Courseware customers will explore how Credo and peer institutions are working with the Courseware to impact student learning, improve outcomes, strengthen ties with faculty and more.
RSVP for the Day 1 User Summit
RSVP for the Day 2 Building Learning Communities Forum
Note: The Forum is included in the 2-day user summit for existing Courseware customers. Those interested in a future purchase of Courseware are invited to attend the Forum held on Day 2 (October 7).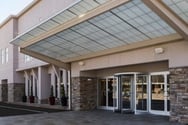 The event will take place at the Brownstone Hotel in downtown Raleigh. Credo has negotiated a special room rate of $136 per night for attendees. Room reservations must be submitted by 5pm on Wednesday, September 14. Book accommodations here.