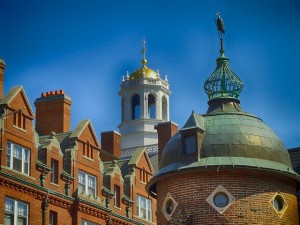 An ongoing study by Northeastern University found that American business leaders are hesitant to endorse Higher Ed's preparation of graduates to enter the workforce. On what did these same business leaders place a high priority? Creativity and problem-solving skills.
The American workplace is replacing algorithmic jobs that can be automated or outsourced with heuristic jobs that require creativity and problem solving. The Usain Bolt-esque pace of change in today's technology requires flexibility and creativity like never before. As a CEO, I identify with those polled by Northeastern and also believe that critical thinking, information literacy, and problem-solving skills are even more essential to success today. In order to ensure these are adequately developed, we need to evolve the way we think about learning.
It used to be that learning took place in a specific place: a brick and mortar classroom. An individual would go to school, learn a skill, and embark on a career. What we see now is the need for a learning continuum, where lifelong learners grow and adapt their skills to face the challenges that can arise at any given time.
And yet, despite a growing awareness of this need, education and business have been slow to embrace the learning continuum model. Why is this the case? In a recent innovation-themed issue, the Chronicle of Higher Ed referred to how slow academia is to adopt new teaching methods when such methods run counter to habit. The same is true in business: the inertia of history can make course corrections challenging.
Companies thrive when they build an environment conducive to workplace creativity and collaboration, skills people are much more likely to learn via Flipped Classes, Project-Based Learning and m-Learning than by lectures alone. I'm not just talking about students' education: there are opportunities now to embrace these strategies in our professional development as well.
Will this change in learning come from forward-thinking educators, or will the demands of employers for Information Literate employees drive higher and secondary education to rethink the content and methods by which they teach? I'm hopeful a combination of the two will increase the speed by which this necessary evolution occurs.
I look forward to hearing what you think. Comment here or find me on Twitter!