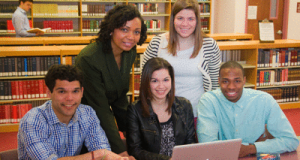 "I refuse to go back to the way I used to teach this class!" Teri Catanio, after implementing Credo's Information Literacy Modules and seeing her students' performance increase while making her job easier.
"[This] is a great product for smaller schools who might not have the resources to make these materials on their own, but have faculty members who want these kinds of tools for their students." Stephanie Kaceli, Assistant Director at Cairn's Masland Library
"12 to 16 hours per week." The time Teri reported saving that had previously been spent reading assigned books and other source materials, preparing PowerPoint presentations, gathering materials for handouts, lecturing her class on information literacy topics and responding to feedback.
"This class seemed more confident and better prepared with the delivery of their final project and presentation," Teri Catanio, explaining that students' research comprehension increased by 70% once the Modules were introduced.
"The Dean--who had previously taught a course similar to Teri's--commented that she wished she'd had this for her class." Stephanie Kaceli, who noted that administrators were excited about the prospects of expanding this to a campus-wide research skills course for credit.
Read the full case study here!