We hear every day that librarians and faculty members are asked to more purposefully and systematically integrate information literacy and critical thinking instruction into their classes. The challenge is how to do it effectively and efficiently. For those who turn to online curricula— or courseware— there are three
primary benefits: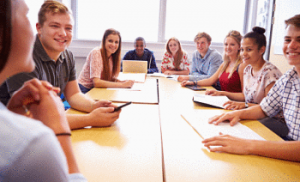 1. Provides Consistent Instructional Framework
Online course materials provide a foundation of common standards, learning outcomes, assessments, and assignments to ensure that your students are getting a consistent instructional experience, even when multiple people are leading different class sections.
2. Supports and Equips Students Without Adding to Instructor Responsibilities
Using online courseware greatly reduces the prep time for instructors to develop different curricula, lessons, or assessments. Online instructional materials allow you to take a flipped classroom approach, which opens class time for discussion, practice, and application of what students learned.
3. Custom, Digital Learning When and Where Students Need It
In a recent survey we found that students value online tutorials and videos on-demand twice as much as faculty, this comes as no surprise when you consider that YouTube is the second most popular search engine. Online courseware increases the accessibility and academic value of point of need instruction to reinforce student learning, whether they are attending class on-campus or online.
Whether a student in the classroom or a graduate looking to enter the workforce, strong critical thinking skills are essential when navigating today's information landscape. When it comes to delivering reliable information literacy instruction for today's students, many institutions are turning to online courseware to engage, connect with, and guide students to become independent learners.
A great example is the Kelvin Smith Library at Case Western Reserve University where they are integrating online course modules into their critical thinking and information literacy instruction, with some help from Credo. Read more in this case study.