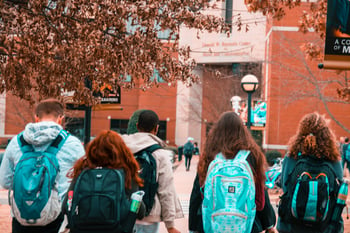 What is special about the second year of college? Following the excitement and the external transition forced in the first year of college, the second year seems quieter at first glance. These students have figured out how to navigate campus, made the transition to the more rigorous expectations of college courses, and made friends with peers. However, the idea of a sophomore slump is not new: I recently found an article dating back to 1956 on the subject. The author claimed that, at his institution, the "sophomore slump" was not as widespread as expected (Freeman, 1956). Yet even in this article skeptical of the concept, he notes challenges common to second-year students.
Consider your second year of college. Did you change your major? Make new friends? Lose a close friend? Did you experience an identity shift of some kind? Reflect on experiences from first year and resolve to make more responsible choices?
Typical second-year students experience transitions academically, in relationships, and in personal identity. Academically, students are often still taking general education courses or pre-major courses with large enrollments. They may also be overcoming an academic deficit from first-year academic challenges. Relationally, in the second year many students settle into more long-term relationships as they consciously seek out and select friends who better match their values and priorities. Identity formation, with its internally focused work, is powerfully in the background of all of these transitions. The question "Who am I?" is a key question many students feel great pressure to answer in their second year of college.
At the same time, the design of higher education leaves this one of the least supported of all college years:
Students are often taking some of the largest classes of their career
They no longer have access to the enriched support of FYE programs
Advising isn't even required on some campuses
While not yet in their major classes, students often take difficult gateway classes in which there is a focus on knowledge acquisition to prepare for future major classes
This is the year students are most likely to have classes in which instructors do not know their names
Before diving deeper into solutions and supports for these students, we have to consider the issue of the labels, second-year and sophomore. The term most commonly used in the literature today is second-year students because sophomores can apply to too many students. In particular, an increasing number of students enter higher education as incoming first year students with college credits, making them sophomore rank by credit hour upon arrival. On the other hand, students who took remedial courses or for other reasons haven't accrued enough credit hours, might not yet be sophomores when they begin their second year. In a recent presentation, Molly Schaller, a leading researcher on second-year students, defines second-year students as those who are in their second year as full-time students in a college or university, no matter their class rank.
In the coming weeks this series of Second Year Transition posts will further explore the challenges these students face, and what we as librarians can do to support them. Next week I'll share a few tips I've learned about working with second-year students as a faculty mentor for Ohio State's Second-Year Transformational Experience Program (STEP) and as the coordinator of library workshops for the STEP Professional Development Co-Curricular series.
*Freeman, M.B. (1956) The passage through college. Journal of Social Issues. 12(4), 13-28.


Beth Black is the undergraduate engagement librarian and an associate professor at The Ohio State University. She helps undergraduates learn about how the library supports their success through integration of library information and resources in a variety of student experiences. She focuses on first- and second-year students, working closely with Ohio State's award-winning First Year Experience and Second-year Transformational Experience Program (STEP).