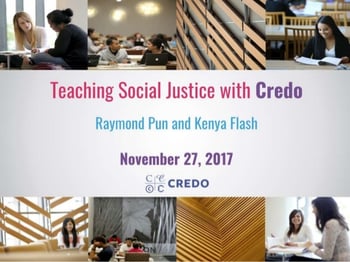 Librarians Ray Pun (Fresno State) and Kenya Flash (Yale University) recently joined us to discuss teaching social justice issues using Credo. Campuses have always provided a space to nurture political thought and activity, and librarians can tap into students' growing interest while also teaching sound research strategies that will benefit all of their studies.
Sign up to receive the full recording, and access the slides here (slides 24-26 offer up some great recommended reading on this topic).
How should librarians bring social justice themes to their library instruction? Ray noted that librarians can connect these to many of the foundational ideals of librarianship: democracy, access, and intellectual freedom. These are all things the ALA espouses and endorses, regardless of partisanship toward any one issue.
On top of that, the principles of diversity, inclusivity, and social justice can be layered on as well when considering the news of the day. As students research current events for their research papers, they may be inclined to think about these issues more broadly in terms of how they or other people might be affected.
Ray and Kenya provided several examples of how they engage their students through social justice in library instruction. Some of their programming included:
Wikipedia Edit-a-Thons (Found at the 12:07 mark of the recording)

Biographical Investigations (20:25)

Mind Mapping (25:15)

Data Literacy Instruction (28:50)
All of these exercises help familiarize students with library resources like Credo, and also make new connections between reference and the world around them in relevant and meaningful ways. Want to keep the conversation going? #CritLib This is an online Twitter discussion that happens throughout the year, and it is a conversation librarians can use to stay engaged in the topic of social justice and librarianship. Visit critlib.org to see when and where these discussions are taking place.
Watch the full recording and don't miss Ray's next webinar (or the recording, if you're seeing this later), Assessing First Year Students: A Conversation on Assessment Techniques. On Wednesday December 13th at noon EST, Ray will be joined by Long Island University-Brooklyn's Kate Angell.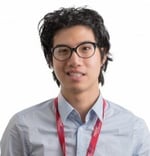 Raymond Pun
First Year Student Success Librarian
California State University, Fresno
Ray coordinates the first year information literacy program and first year library experience on campus. In his career, Ray has worked as a research librarian at NYPL and at NYU Shanghai. An active member of ALA, ACRL, SLA and IFLA, he has also published and presented extensively in the areas of public and academic librarianship and community engagement. He is the co-editor of The First-Year Experience Cookbook (ACRL 2017) with Meggan Houlihan.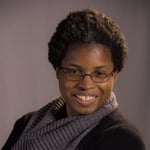 Kenya Flash
Political Science, Global Affairs, and Government Information Librarian
Yale University
Kenya recently began work as the librarian for Political Science, Global Affairs, and Government Information at Yale University. Previously, she served as the Political Science and Sociology Liaison, as well as Diversity Resident Librarian and Research Assistant Professor at the University of Tennessee, Knoxville. She has written and presented on a number of topics in librarianship, including uses of the ACRL Framework for Information Literacy, assessing the needs of graduate students, and diversity and cultural initiatives led by academic libraries.