By Grace Liu and Raymond Pun
Supporting business and economic research can be quite challenging, but also fascinating. From globalization data to local company profiles, information literacy instruction can be integrated into business and economic research. In this interview, librarian Grace Liu shares her thoughts on teaching information literacy in these fields at the University of Maine, and how she utilizes the ACRL Framework and its resources to support her teaching practices and lesson plans.
Ray: Thanks for speaking with us! Can you tell us about your role as an instruction librarian and how you incorporate information literacy into your instruction and workshops?
Grace: In my role as an instructor and the business reference librarian at the Fogler Library in the University of Maine, I am responsible for teaching a 3-credit information literacy course and offer library instruction sessions for business and economics disciplines. Incorporating information literacy into my library instruction is always my passion. For the 3-credit information literacy course, I've aligned my course content with the ACRL Framework for Information Literacy for Higher Education. My business instruction sessions are often one-shot from 30 to 50 minutes. It is challenging to cover all I want to cover about information literacy, but I've been able to bring the concept of "searching as a strategic exploration" into my business instruction sessions and focus on teaching business research strategies.
I have designed a series of graphic handouts on business research strategies to help students understand complex business research steps and resources. I have shared these graphic handouts via ACRL sandbox. Affective learning is an important information literacy concept but very challenging to teach. I have developed some approaches to address affective learning in business library instructions, which include teaching search strategies, using quotations and Framework concepts, mentioning affective learning goals, addressing emotional challenges, telling the truth, sharing publishers' disclaimers and sharing your personal definitions of research.
Ray: That's very interesting that you have students discuss their own personal definitions of research, particularly in business context. What are some challenges you face when supporting information literacy for business and economics?
Grace: One of the big challenges is helping students understand the complexity of business information needs and the strategies to address these needs. I believe business research is much more than searching business databases, and teaching business research is much more than demonstrating database searching. But conveying such idea to students and faculty takes great effort. Another challenge is the constraint of one-shot format. Ideally, we hope students can develop well-rounded business research skills through learning increasingly complex search strategies.
However, one-shot sessions for class projects at different levels are hard to scaffold students' learning. Building students' knowledge practices around the Framework and helping them develop the dispositions displayed in the Framework requires consistent effort and long-term nurturing. Without proper format and platforms, it is quite challenging to do so. To meet these challenges, some universities have developed credit-level business information literacy courses, but for many institutions like UMaine, it is still a long way to go to get there. I've been thinking to do a comprehensive curriculum mapping and fill the gap through after-class workshops, or design mini business research sessions.
Ray: Do you recommend any resources for instruction librarians to consider when thinking about the fields in business, economics, finance, marketing/management?
Grace: Celia Ross's Making Sense of Business Reference is a great book to read to understand the nuts and bolts of business references. I personally benefit greatly from Michael Lavin's Business Information: How to Find It, How to Use It. The book goes beyond introducing business books and databases. It casts light on original sources of business information. Although the latest edition is published in 1992, a great amount of knowledge in this book still holds true today. To keep on top of my field, I often follow the publications in the Journal of Business & Finance Librarianship and the Academic BRASS, and check out the BUSLIB-L listserv posts every day. Except for these business librarianship related resources, Char Booth's Reflective Teaching and Reflective Learning was the first book I read about library instruction design when I was in my graduate school while I still find it helpful for preparing my business library instruction sessions today.
I have great interest in developing effective teaching skills, and have been greatly inspired by the Harvard Business School Professor Chris Christensen's case method teaching. Professor Christensen exemplified high quality of teaching at Harvard. I believe that is not because of his case method, but because of his way of teaching case method - engaging every student at individual level and make every student feel they are the most important person in the classroom. His Education for Judgment: The Artistry of Discussion Leadership is worth careful reading.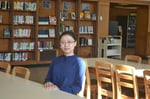 Grace Liu is the business reference librarian at the University of Maine Fogler Library. She has drawn her understanding of the business information literacy from experiences working for both private and public sectors as a research assistant at the Morrison & Foerster LLP Beijing office, as a content developer in LexisNexis China, and from her current role as the business reference librarian at UMaine.