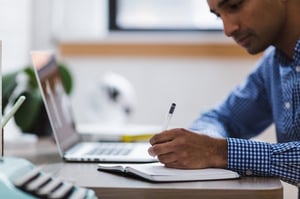 By Beth Black and Tim O'Neil
Student engagement librarian Beth Black recently interviewed Tim O'Neil, assistant director of Special Undergraduate Enrichment Programs at the University of Colorado, Boulder. In Part I, they explored how different groups in academia conceptualize research. This week they discuss how Tim has worked to engage students in their academic and creative life, and how libraries can partner with undergraduate research offices.
Beth Black: What is your role at the University of Colorado, Boulder?
Tim O'Neil: As the Assistant Director of Special Undergraduate Enrichment Programs "SUEP," I help oversee the Norlin and Boettcher Scholars programs, which support about 200 students throughout their undergraduate careers with merit-based scholarships, mentoring, invigorating courses, and a wide range of co-curricular programming. I also manage two student and faculty grant programs (the Undergraduate Research Opportunities Program and the Professional and Academic Conference Endowment, known here as UROP and PACE) that annually provide over half-a-million in funding to support more than 500 student-faculty partnerships for research, scholarly, and creative projects in all fields of study as well as participation in professional and academic conferences and exhibitions.
BB: At Oklahoma State University, your previous institution, you worked with Matt Upson and other colleagues at the library on several projects. What should we highlight from that work for our readers?
TO: Working with Matt and the OSU Libraries enabled a more broadly inclusive approach to engaging students in the academic and creative life of the university. At the time, no comprehensive curriculum existed for all students in our programs to develop the information literacy necessary to translate their isolated experiences with faculty into the design of projects—namely, "big picture" ideas. The Inform Your Thinking video series (http://info.library.okstate.edu/informyourthinking) allowed these students (spread over a wide spectrum of disciplines) to grapple with conceptual challenges in the academic discourse while learning to negotiate the institutional environment.
The videos have also provided opportunities for the wider campus community by offering a common, accessible vocabulary for students to engage in discussions and conceptual pathways to see themselves as potential participants. The most useful component of the series, for me, has been "Scholarship as a Conversation," which connects print to practice by allowing students to think about the academic discourse as both recorded in journals and an active community dialogue—accessible by talking to faculty on campus, which I encourage them to do in route to the development of projects. The videos provide a useful way for students to enter the conversations that matter most to them without being prescriptive about the process.
BB: What do you wish librarians knew about working with units like yours on their campuses?
TO: I would like librarians to see undergraduate research offices as partners and collaborators, and I'd like librarians to see themselves as mentors. With many parallel objectives from information literacy to the creation and dissemination of scholarship, I see significant potential for collaboration that provides inclusive and budget-friendly pathways for students to explore their interests and develop projects.
For example, our office recently partnered with CU Boulder Libraries' Special Collections, Archives and Preservation to support workshops in letterpress print technology, which provided students active learning experiences that allowed them to connect course concepts to archival research and creative practice. With help from the local Book Arts League (Lafayette, CO), students from a wide range of disciplines engaged in semester-long, in-depth explorations of letterpress technology that drew enthusiastic reviews from faculty and students alike.

Tim O'Neil is the Assistant Director of Special Undergraduate Enrichment Programs at the University of Colorado Boulder. He helps nurture students' personal and professional growth with contemplative, inquiry-based practices and funding opportunities that engage students in questions among academic, professional, public, and global contexts. Tim facilitates the Curiosity Lab, which foregrounds creativity, empathy, and play to expand information literacy and cultivate a deeper sense of interconnectedness and social awareness. With the Lightbulb Moment video series, he promotes narrative thinking to provide conceptual pathways into undergraduate research, scholarly and creative work by focusing on the personal stories behind project outcomes.