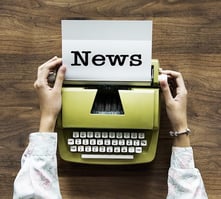 This blog series provides easy, free access to open web resources and content that support affordable learning opportunities. A wide variety of resources published by government entities, think tanks, and more are curated to demonstrate what may be relatively unknown or 'buried' in the internet. Resources reflect issues happening today for the use of librarians, students, and all audiences.
Peruse, collect, distribute, save time and energy for enhancing information awareness in libraries around the world. We encourage you to share.
In Case You Missed It: New Open Resources
These helpful sources are open and offer background on current events of global importance.
A new report details smart speaker usage in the United States:
The Smart Audio Report, Spring 2019
Source: NPR and Edison Research
Keywords: Audio, Smart Speakers, Podcasts
Data and analysis on temperature and climate around the world:
Climate Monitoring
Source: National Centers for Environmental Information
Keywords: Climate Change, Environment
New analysis of immigration cases filed in U.S. courts:
ICE Fails to Target Serious Criminals in Immigration Court Filings
Source: Transactional Records Clearinghouse (TRAC) at Syracuse University
Keywords: Immigration, Criminals, Courts, Immigration & Customs Enforcement
Data from police agencies across Canada to support research around cybercrime, hate crimes, and organized crime:
Canada: Police-Reported Data on Cybercrime, Hate Crime and Organized Crime, 2016, 2017 and 2018
Source: Statistics Canada
Keywords: Canada, Crime, Statistics
Survey examining what Americans know about world religions, and what the Constitution says about religious freedom and protections:
What Americans Know About Religion
Source: Pew Research
Keywords: Religion, Surveys, Constitution, Demographics, United States
Did You Know: Open Resources to Bookmark
Protected Areas Database of the United States: This geospatial database and interactive map from the USGS provides the, "official national inventory of U.S. terrestrial and marine protected areas that are dedicated to the preservation of biological diversity and to other natural, recreation and cultural uses, managed for these purposes through legal or other effective means." Version 2.0 of the database was recently released.