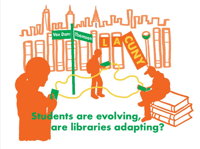 May 3, 2019 saw the annual LACUNY Institute held at LaGuardia College's Performing Arts Center. Below are details of the programs that were of most relevance to information literacy librarians. While the audience was mainly librarians from CUNY (the City University of New York), the advice and experiences shared by the presenters could work just as well in other academic settings.
Dissertation Deep Dive: Taking the Plunge to Support Graduate Students
Heather F. Ball, St. John's University
Ball discussed a week-long, pilot "bootcamp"-type event her library held for doctoral students during this year's spring break in March. The plan was for the students who signed up for Dissertation Deep Dive (3D) to be offered research consultations as well as writing time during the five 8 am-4 pm sessions.
Graduate students were chosen as the target group for this event because they have discipline-specific research needs and Ball and colleagues believe that these students are underserved—there is no graduate services librarian at the school and no central office to help the students, either. At the same time, the doctoral students at St. John's have tight schedules due to full-time jobs and family responsibilities.
The staffing model made two on-call librarians available to work with students, though the planning of the event also involved input from two assistant deans. 15 students signed up for the week, and the librarians used a room that could fit 17—they limited registration because they wanted the room to feel spacious and unlike a class. Only 5 of the 15 showed up, however. The classroom was used for quiet writing, while the library also provided a conference room for communal work and breaks.
The librarians had planned several informational sessions that would take place each morning throughout the week. These would cover time management, citation management, and electronic submission of theses to the library at St. Johns. In the afternoon, there were sessions planned covering motivation and inspiration. However, the librarians found that these sessions were unpopular because all of the students were at the end stages of writing their dissertations and just wanted quiet writing time.
The library provided coffee for the students in the morning and snacks in the afternoon, with a lively conversation generated at the conference when food was brought up: both at St. John's and at the institutions represented in the room, the library must use the school's caterer, which is very expensive. Attendees mentioned a workaround to this rule: if the food and drink will be consumed in a private room, such as an office, outside purchases are allowed (a rule librarians reading this might want to explore, as those present cited catering costs as a significant barrier to holding this kind of event).
In summary, Ball noted what the library will do differently when planning such a program in the future. They will take a more hands-on approach to finding out what the students need ahead of time, she said, using a pre-program survey to find out student preferences so that planned activities will be more appropriate; they will also announce the daily schedule for the event ahead of time. The librarians will try to communicate in person with students who have signed up, to encourage better attendance.


Closed Educational Resources: New Study Tools, New Challenges for Access
Greg Laynor and Natalie Tagge, Temple University

This session defined its topic, closed educational resources (CER), as study tools that are only available to individual subscribers and are "often prohibitively expensive." Examples mentioned by Laynor and Tagge were Sketchy Medical, Memrise, and Picmonic. The presenters are health science librarians and they noted that their students often request these kinds of items for medical study—they include online flash cards for medical board exams, for example, and are often items developed by students or former students who may leave school to pursue this business.
The difficulty in collecting these kinds of items was discussed; not only are they not usually available with a library license, their popularity is based on fads, said the librarians, so that when the library has tried the time-consuming and expensive process of buying mulitiple individual licenses, the students have already moved on to the next "hot" resource.
Attendees were asked to brainstorm workarounds for when students ask for CERs. These included:
Arranging group study sessions in which students who own the resource can share it with others
Ask students to try the free version of the resource, if one is available
Show students material the library does own that covers the same material
Explain the licensing issues to students so they understand why the library cannot purchase these materials
Finally, the presenters recommended the following article for those who wish a deeper understanding of the issues surrounding CER:
O'Hanlon, Robin; Laynor, Gregory. Responding to a new generation of proprietary study resources in medical education. Journal of the Medical Library Association, [S.l.], v. 107, n. 2, p. 251–257, apr. 2019. ISSN 1558-9439.http://jmla.mlanet.org/ojs/jmla/article/view/619.
WikiProject CUNY: On CUNY Librarian's Collaborative Projects with Wikipedia

In this session, CUNY librarians Nora Almedia, Jean Amaral, Thomas Cleary, Junli Diao, and Megan Wacha described Wikipedia-editing projects they have conducted at various CUNY colleges, with Diao also introducing a related article he had published in the Journal of New Librarianship.
As well as offering an interesting project, noted the librarian presenters, Wikipedia editing also satisfies several of the ACRL framework's precepts, notably the frame regarding students becoming content producers. However, students can find editing of Wikipedia confusing and even intimidating, said the presenters, who offered several tips for projects that involve this activity:
Wikipedia editing can be assigned as a semester-long project, with students set a particular topic or person to work on; the librarian presenting about this kind of project said she graded students on their reflections about the process, not on the editing itself. Or students can work in a group in a relatively short (a few hours at the most) "editathon."
Students can also be asked to create social media posts related to the work, which meets the ACRL frame regarding scholarship as a conversation
A "Translatathon" is another option—Thomas Cleary of LaGuardia Community College described such a project, with Wikipedia offering a translation tool that produces a rough translation of a given English article and students who know the target language are asked to clean up the wording. In Cleary's project, students are given a list of articles that need translation and a list of languages they need to be translated to.
It's important that students undertaking this kind of project are given a list of articles to create or edit and a corresponding set of reference and other library materials to draw from
Train students Wikipedia's policies and talk to them about how the community works—this means you must practice editing Wikipedia yourself before assigning the project
Students can look at how articles are structured that are on topics similar to their own
Build in class time to read and edit Wikipedia together
Contact the Wikimedia Educational Foundation (wikiedu.org), which will help you turn an assignment into a Wikipedia project