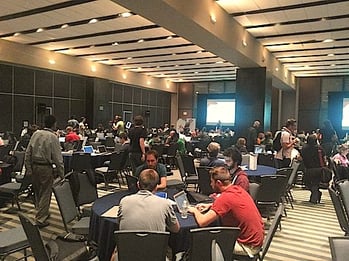 By Orlando Leon and Raymond Pun
Hackathons support high-impact practices (HIP) through student engagement with innovative research and collaboration. In this interview, FYE Correspondent Raymond Pun talks with Orlando Leon, Chief Information Officer (CIO) at Fresno State about Leon's experiences and thoughts on hackathons, and delves into the important skills students gain from organizing and participating in such events.
Ray: I was very glad to see HackFresno return this year! Can you talk about your role in organizing HackFresno and briefly describe the importance of hackathons in cultivating innovation and collaboration on campuses today?
Orlando: This year, I served as the executive sponsor for the 2nd annual HackFresno event. HackFresno stemmed from an idea I had when stepping into the CIO role in 2015. The vision would be to get students engaged in a setting that encouraged group projects solving real-world needs in a competitive environment. A hackathon at Fresno State would be one of the first for the Central Valley, and the very first for college-aged students in Fresno, with objectives to encourage creative thinking and collaborative partnership with local technology companies.
Hackathons support high impact practices, such as experiential learning and group or community-based learning, and preliminary feedback from our recent 2018 Hackathon was glowingly positive. One student even stated that he learned more in the past 36 hours than in a whole semester. Hackathons are also meant to support interdisciplinary learning, with the ideal hackathon involving students from a variety of disciplines, including but not limited to computer science, engineering, agriculture, business, and the arts.
Ray: What are your thoughts on challenges and opportunities presented in a hackathon for higher education today?
Orlando: HackFresno was a great experience for our students in a number of ways. For example, it gave many people (60% in this recent event) their first experience of a hackathon, one that they may not have been exposed to otherwise. For our student organizers, they gained valuable skills that may be very applicable in the workplace, such as vendor relationship-building, fundraising, event organizing, project management, general administrative functions, and leadership, much of these not easily learned or experienced in a traditional classroom setting.
Generalizing this to the higher education setting, a hackathon is a great way to encourage interdisciplinary learning, as many employers today have higher expectations when it comes to students' ability to work across an organization. This type of event is also a great way to put theory into practical experiences on a variety of levels, and it presents an opportunity for the local community to partner with the university.
One challenge is that a hackathon may present an idealistic state of what work will look like in a student's future. Furthermore, some of the wonderful ideas, similar to Invent America in the 80s, created during a 24 or 36-hour timespan may never see any light of day, unless the right people are in the room at the right time. There are, of course, ways to approach these challenges.
Ray: If folks are interested in starting a hackathon, what are some important advices you can share?
Orlando: An effective, fun, and sustainable model for executing a hackathon needs both strong executive sponsorship and strong bottom-up (student) engagement. Even with a highly-motivated team of student organizers—who were often justly distracted by schoolwork—regular mentorship and coaching were key elements in supporting our successful events. In the 11th hour, a good dose of timely encouragement may also be needed; in the case of the 2018 HackFresno event, it almost didn't happen when our student organizers became anxious about a potentially low turnout. Having a strong network (national and local technology companies, as well as good relationships at the university) was also very valuable in supporting an event that is completely sponsor-funded.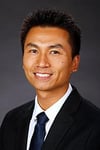 Orlando Leon was born and raised in San Francisco, California. He attended the Massachusetts Institute of Technology, where he received degrees in Electrical Engineering and Computer Science, Management Science, and Computer Science and Engineering. Orlando has over 15 years of experience in the information technology field with 10 years in higher education. He held leadership positions at Stanford University and the University of California, San Francisco and worked at Hewlett Packard and Oracle. At Fresno State, Orlando serves as the campus' inaugural Chief Information Officer, charged with fostering innovation and collaboration in all things technology.