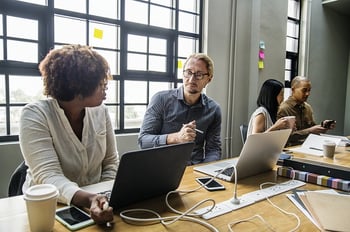 This semester, have you collaborated with a teaching faculty or a student affairs colleague in designing an assignment, curriculum, or program for student learning and engagement that utilizes library resources or services including instruction? In this post, we'll highlight this High-Impact Practice (HIP) and review 3 open access resources for you to explore when designing collaborative activities for the spring semester!
According to the American Association of Colleges and Universities (AAC&U), this HIP focuses on collaborative learning for students to develop skills "to work and solve problems in the company of others and sharpening one's own understanding by listening seriously to the insights of others, especially those with different backgrounds and life experiences." Collaborative assignments designed by librarians and faculty can also enhance opportunities to teach research and information literacy skills from multi-perspectives. These projects can involve group activities and team work to support students' research and communication skills and increase their levels of engagement in and outside of the classrooms.
Here are 3 great resources to help you start to initiate such collaboration with your teaching faculty and student affairs colleagues:
ACRL Framework for Information Literacy Sandbox
Interested in integrating the ACRL frames into your collaborative assignments? The sandbox is a "place to discover ways to use the Framework for IL in instructional settings, as well as share your own activities and teaching resources related to the Framework." From teaching IL in health sciences to first year writing rubric, this resource is filled with many contributions and you are welcome to design something collaboratively and share it on the site. Assignments like Scholarly Article Autopsy also contain lesson plans to include collaborative research activities. In this activity, students "work in groups to systematically examine a scholarly article in depth, identify and evaluate its various components visually and in writing and then compare it to a non-scholarly article on the same topic. Groups then report back to the entire class."
CORA
Also known as Community of Online Research Assignments or Project CORA, this is an award-winning open access resource for faculty and librarians. Similar to the Sandbox, this open repository features a series of assignments contributed by librarians, teaching faculty, and other educators. You can also create a free account and add your lesson plans and case studies to share with others. Some of the submissions also contain collaborative assignments such as the Interactive Technique from University of South Florida's Academy for Teaching and Learning Excellence. In this list, readers can find over 100 active learning techniques to encourage participation and creative/critical thinking exercises. The repository also provides adaptable assignments such as Information Literacy Assignment Bank from the College of Holy Cross that is "designed to support collaboration between librarians and faculty." In addition, you can find a teaching toolkit to help co-plan your activities using a series of resources shared by various institutions and organizations including AAC&U, ACRL, and more.
ACRL PRIMO Database
Also known as the Peer-Reviewed Instructional Materials Online Database, this resource is a great start to explore successfully designed modules, tutorials and digital learning objects to support/teach information literacy, research and critical thinking skills, and beyond. The resources can also be searched under keywords and disciplines. For example, searching "collaboration" yields many different tutorials, ranging from criminal justice to finding resources for literature reviews. Show these to teaching faculty to gauge interest in designing similar resources, or adapt existing tutorials to assignments that require students to conduct research collaboratively. These can open up conversation with teaching faculty interested in collaborating with the library and pave the way for future partnerships.
Be sure to explore these databases to get more ideas and contribute to them as well!