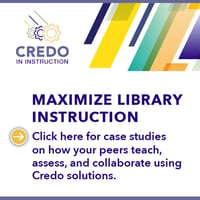 We reached out to subscribers and asked them to share stories about how Credo impacted their library instruction efforts. We were impressed by the innovation and creativity these librarians demonstrated in designing FYE programming, workshops, activities, and for-credit courses to help their students build the IL skills that will be essential to their academic and personal success.
Visit our Credo in Instruction homepage for a list of the institutions and programs. You'll see examples of how libraries used their Credo products to:
Build familiarity with the research process, especially the first steps that can be such a hurdle for inexperienced researchers.
Ease library anxiety and increase student engagement with the library and its services and resources.
Create meaningful partnerships with faculty in order to improve student learning outcomes across campus.
Scale up information literacy programming without causing unsustainable burdens to the library and its staff.
Expand the library's role in supporting distance and online students.
We've broken the case studies into 3 tiers, ranging from customers just starting to use Credo to those who have integrated our products into multiple layers of their instruction strategy—so no matter where you fall on the spectrum, you're sure to find helpful ideas you can bring to your own institution. If you have a story you'd like to share with your peers, let us know!