Many colleges and universities bring incoming students to campus a few weeks or days prior to the start of the fall semester. These programs take several forms to address the needs of different individuals. Most have the common goal of helping students acclimate to campus and connect with key resources for a strong start to their college careers. Libraries and librarians have a lot to offer these initiatives. One example is the engagement University Libraries has with the Young Scholars Program (YSP) at Ohio State University.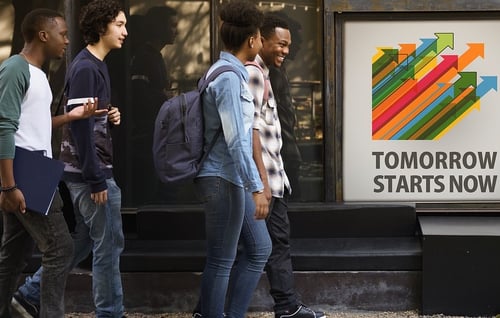 YSP serves 1,000 students state-wide, including over 700 in grades 8-12 and 350 undergraduate students. Scholars are academically talented first generation college students from economically challenged backgrounds from nine of the largest urban school districts in Ohio: Akron, Canton, Cincinnati, Cleveland, Columbus, Dayton, Lorain, Toledo and Youngstown. The program seeks to enhance their academic preparation for success at OSU by providing nurturing, training, and guidance to these bright young people in order to help them to achieve their educational goals.
Library support has focused on the students participating in summer experiences for rising high school juniors, rising high school seniors, and incoming first-year college students. English enrichment and student employment job fairs are two of the ways I work with the program.
English Enrichment
Students involved in YSP Bridge arrive 3 weeks prior to the start of school and take a variety of enrichment classes. The Library participation focuses on the English Enrichment class. When planning the program, I generally meet with the English Enrichment instructors to provide information literacy and library resources for assignment design, and to describe workshops instructors can elect to use. A resource popular with the teachers is Choosing and Using Sources: A Guide to Academic Research, an open-access textbook written by Teaching and Learning colleagues in University Libraries. The instructors also use the Instructor Resources companion for class activities.
When students are on campus, I welcome them to the library for a game-based library orientation during their English class and often visit their classes for sessions on formats identification and strategic searching.
Student Employment Job Fair
Most YSP students have a work-study award. The Libraries hire a large number of student employees, including many positions set aside for students with work-study. Yet students are often on their own to navigate the complicated student employment situation. To help students and employers find one another, I partnered with YSP leaders and a colleague in the Libraries' HR unit on two events.
First, we presented the wide array of jobs available, and provided an overview of how to apply to all of the YSP students.
Second, we held a job fair with student employee supervisors from the libraries and other units on campus the following week. Our library team noted hiring 19 student employees from this group as a result of the fair.
Moving forward, I hope to expand this work to include other pre-enrollment programs at our institution as our shared goals align.