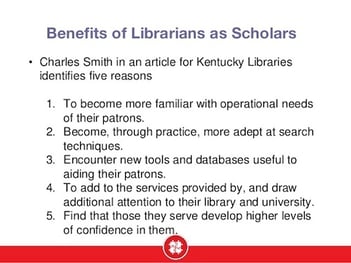 Brian Coutts and Rosemary Meszaros of Western Kentucky University recently joined us to explore the role of the librarian as scholar. Brian is this year's winner of the Reference and User Services Association's (RUSA) Isador Mudge Award. View the recording here (plus slides).
Brian and Rosemary went through the history of librarian scholarship in America. Before Dewey revolutionized the way we see librarianship, scholars were the librarians. Historians and academics were often viewed as the gatekeepers of information.
Melville Dewey founded the first school of Library Science, then called Library Economy, in 1887.
Isadore Mudge was a student of Dewey's at New York's State Library in Albany. She became a refernece librarian and instructor at the University of Illinois, and then Columbia University, where her goals were to build a balanced colleciton of important resources, to make it accessible, and to make it useful. By 1941 she had amassed the largest reference collection in the world at Columbia.
Brian and Rosemary discussed this history further, and then laid out the benefits to librarians who engage in this type of scholarship, not only for themselves, but for their collections.
If you're interested in the history of reference in America and great scholars among the library community, past and present, you can see the complete webinar recording here.