Sayings about standing on the shoulders of giants and not reinventing the wheel ring as true in librarianship as they do in other endeavors. You don't have to go it alone, a happy thought when the library is packed with students cramming for finals and the holidays aren't far off. Credo's got your back: we are announcing one refreshed resource and a new item you can immediately put to use to improve and/or expand your IL efforts.
Getting a new home and a bright new look and feel is our InfoLit Learning Community. At the new site, you'll find the same great resources you've become familiar with:
Free information literacy-related webinars (now you can sign up for just the ones you're interested in)

Links to recently published resources for IL librarians

Blog posts
Short how-to videos

Links to newly published journal articles in the field

Case studies showing how Credo customers get the most out of their subscriptions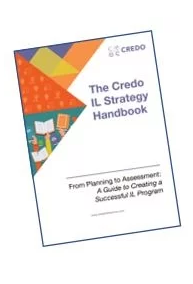 Completely new is section three of Credo's IL Strategy Handbook, which offers concise, up-to-date guidance on how to use assessment data to improve an IL program. The free handbook draws upon recent IL literature; the experience of its librarian author, Credo's Henrietta Verma; and tips and knowledge from Credo's valued librarian customers and our webinar presenters. The Handbook is available under "New Resources" in the InfoLit Learning Community.
We welcome your feedback on these resources and hope to see you in the community!