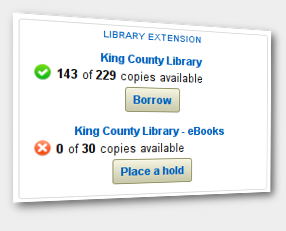 As children we were promised flying cars, hoverboards, and conveyor belts to shower and dress us each morning. Until now, you'd be forgiven if you were disappointed that all we've gotten so far are increasingly sophisticated ways to argue with strangers and hail rides. Library Extension, the browser tool that gives you a heads up when your local library has the book you're about to buy, changes everything.
Library Extension might not be as exciting as Dr. Who's sonic screwdriver, but it could boost your library's circulation stats and save your patrons literally dozens of dollars in one fell swoop. It's very simple: if you browse a title on a book-selling website like Amazon, a window will appear just above your cart letting you know if the book is available at your local library and giving you the option to reserve/borrow it. It covers print and audio books in over 3,200 public and academic libraries.
It might be decades before Elon Musk can finalize his electric lunar subway. We may never know how the three seashells work. And let's be honest, the first cars that are also planes will probably wipe out entire cities with ongoing and spectacular explosions. But at least the next time one of your patrons is about to impulse-buy the latest Jack Reacher hardcover, Library Extension will remind them it's available, for free, at their local library.