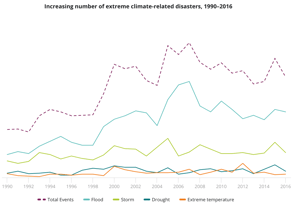 This blog series provides easy, free access to open web resources that support affordable learning opportunities. A wide variety of resources published by government entities, think tanks, and more are curated to demonstrate what may be relatively unknown or 'buried' in the internet. Resources reflect issues happening today for the use of librarians, students, and all audiences.
Peruse, collect, distribute, save time and energy for enhancing information awareness in libraries around the world. We encourage you to share.
---
In Open Web News: Timely Topics
These helpful sources are open and offer background on current events of global importance.
U.S. Census Bureau Releases 2017 American Community Survey (ACS) 1-Year Estimates
The U.S. Census Bureau recently released its most detailed look at America's people, places, and economy with new statistics on income, poverty, health insurance, and more than 40 other topics from the American Community Survey (ACS). The post linked above includes highlights, a number of data and visualization tools, and links to several guidance tools to make the best use of the resources.
Keywords: demographics, statistics, census, united states, population
Global Hunger Continues to Rise ("The State of Food Security and Nutrition in the World 2018″)
New evidence continues to signal that the number of hungry people in the world is growing, reaching 821 million in 2017 or one in every nine people, according to The State of Food Security and Nutrition in the World 2018.
Keywords: hunger, food, statistics, world, data
In Case You Missed It: New Open Resources
Openly Available Sources Integrated Search (OASIS) is a search tool developed at SUNY Geneseo's Milne Library that aims to make the discovery of open content easier. OASIS currently searches open content from 58 different sources and contains 160,258 records.
Keywords: OER, tools, documents, search, research
Did You Know? Open Resources to Bookmark
Webrecorder is a web archiving service anyone can use for free to save web pages. Making a capture is as easy as browsing a page like you normally would. Webrecorder automatically archives the page, along with any additional content triggered by interactions.
Keywords: web, tools, archiving, archives, research