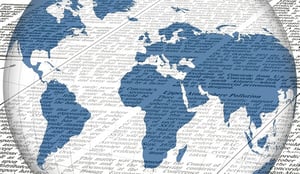 This blog series provides easy, free access to open web resources and content that support affordable learning opportunities. A wide variety of resources published by government entities, think tanks, and more are curated to demonstrate what may be relatively unknown or 'buried' in the internet. Resources reflect issues happening today for the use of librarians, students, and all audiences.
Peruse, collect, distribute, save time and energy for enhancing information awareness in libraries around the world. We encourage you to share.
In Case You Missed It: New Open Resources
These helpful sources are open and offer background on current events of global importance.
Understand the latest in the wage gap between women and men:
Global Wage Report 2018/19: What Lies Behind Gender Pay Gaps Source: International Labour Organization
Keywords: Statistics, Gender, Labor, Salaries
New detailed report examines landmines and explosives left behind after war:
Source: International Campaign to Ban LandminesKeywords: Statistics, Landmines, Conflict
New resources from the U.S. Global Change Research Program:
Fourth National Climate Assessment, Vol. II: Impacts, Risks, and Adaptation in the United States and 2nd State of the Carbon Cycle Report
Website and All Resources
News Release
Climate Assessment Vol. II Report (Read Online)
-Report in Brief (196 pages; PDF)
-Summary Findings (8 pages; PDF)
-U.S. Global Change Research Program
-2nd State of the Carbon Cycle Report (SOCCR2)
Source: U.S. Global Change Research Program
Keywords: Climate, Climate Change, Environment Assessments
Updated research now available from the CDC on smoking and vaping among high school students:
Use of Electronic Cigarettes and Any Tobacco Product Among Middle and High School Students — United States, 2011–2018
Source: Morbidity and Mortality Weekly Report (MMWR/CDC)
Keywords: Smoking, Health, Tobacco, Cigarettes, Students
Gain insight into trends on international students and scholars studying and teaching in the United States:
International Education Exchange: 2018 Open Doors Report
Source: Institute of International Education (IIE)
Keywords: Higher Education, Students, International
The U.S. Census has released new data on young couples' behavior:
For Young Adults, Cohabitation Is Up, Marriage Is Down
Data Tables: America's Families and Living Arrangements
Source: U.S. Census
Keywords: Young Adults, Marriage, Families, Living
Did You Know: Open Resources to Bookmark
Global Change Information System (GCIS)
The GCIS is a database that links together a network of information, including organizations, datasets, and research, especially those products maintained and disseminated by government agencies and organizations.
Source: US Global Change Research Program (USGCRP)