This blog series provides easy, free access to open web resources and content that support affordable learning opportunities. A wide variety of resources published by government entities, think tanks, and more are curated to demonstrate what may be relatively unknown or 'buried' in the internet. Resources reflect issues happening today for the use of librarians, students, and all audiences.
Peruse, collect, distribute, save time and energy for enhancing information awareness in libraries around the world. We encourage you to share.
---
In Open Web News: Timely Topics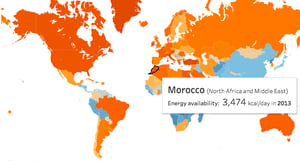 The Global Nutrient Database
Learn how the world eats with data just released on global nutrition from The Lancet Planetary Health and the Institute of Health Metrics and Evaluation.
Keywords: hunger, food and nutrition, socio-demographic index, micronutrients
Social Media in Emergency Response
This new collection of resources curated by TRACIE, the U.S. Department of Health & Human Services Healthcare Emergency Preparedness Gateway collates lessons learned about emergency services response and social media.
Keywords: social media, emergency services, critical care, severe weather, mass violence, marked safe
Did You Know? Open Resources to Bookmark
This interactive site offers insights into economies around the world from the Organization for Economic Co-operation and Development.
Keywords: economies, population, income distribution, debt, expenditure
In Case You Missed It: New Open Resources
Every consider becoming a "Data Librarian?" This newly published paper explains the needs and prospects for growing career opportunities in the field.
Keywords: careers, big data, libraries, LIS curriculum