Join the InfoLit Learning Community now. Already a member? Log in here.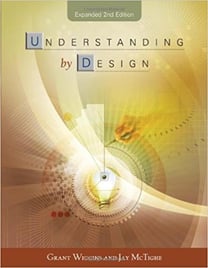 In recent years, assessment of student learning has become more and more sophisticated as well as increasingly determinant of decisions regarding funding and faculty promotion. Administrators and other educational stakeholders—parents, for example, who want to see their hard-earned tuition payments balanced against measurable gains in their child's knowledge and employability—advocate for more and better metrics regarding student learning. It can all seem so mercenary that it's worth a look back at a seminal work—Grant Wiggins and Jay McTighe's Understanding by Design (Association for Supervision and Curriculum Development, 2005)—that advocates for assessment in order to see why we're crunching all these numbers.
Information literacy teachers will be familiar with the idea of backwards design. The idea was first proposed by Rolf Faste, a professor of industrial design at Syracuse University in the 1970s and '80s. Backwards design, said Faste, was a means of starting a project by considering the desired outcome first, and designing with empathy toward users in mind. Wiggins and McTighe's book, which was used in the creation of ACRL's Framework for Information Literacy for Higher Education, strongly emphasizes the importance of assessment when using backwards design in education. Assessment, say Grant and Wiggins, is the second step in designing a plan for student understanding, with the three steps as follows:
Identify desired results


What should students understand after they complete IL instruction?

Determine acceptable evidence


How will you know that they have gained this understanding?

Plan learning experiences and instruction


Which activities and lessons will impart an understanding from which future learning might build?
While the professional literature is happily rich with material on assessment, including on alternative assessment methods and working with particular populations, Chapter 7 of Understanding by Design, "Thinking Like an Assessor," offers a perspective not often examined. According to the authors, teachers must start to view assessment not as grade generation, but as a way to know that students demonstrate understanding. As such, deciding upon assessment measures must happen before planning a curriculum. One must decide how students will demonstrate understanding, then decide the best ways to prepare them for that demonstration.
Wiggins and McTighe acknowledge that this approach isn't intuitive—it's much more usual for an educator to begin to plan classes and assignments before deciding upon assessments. (It's called "backwards design" for a reason!) For a primer on moving past this oddness and putting backwards design into practice in your work, see Chapter 7 here. And if you've already used this design approach, we'd love to hear about your experiences in Credo's InfoLit Learning Community, where you can post a discussion about your work and collaborate with other librarians to deepen your thinking. Log in here to begin!