Join the InfoLit Learning Community now. Already a member? Log in here.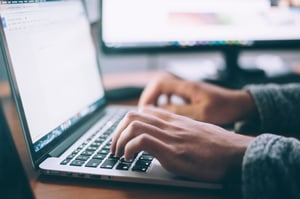 Accreditation: it's a scary time, and it can seem like the institution's future hangs on whether the library can show its worth. Take a deep breath! This isn't a "gotcha" moment. It's an opportunity for you to show all the things the library is already doing that both help individual students and move the school closer to its goals. Remember, too, that the accreditation committee wants you to succeed. Especially if this is a reaccreditation visit, they're just looking to see that you're meeting your goals.
Ideally, you will have been gathering information all along to prepare for this visit. But if you haven't, don't rush to start gathering random numbers. You need a plan for what will work best. First, familiarize yourself with the relevant requirements set out by the accrediting body. Figure out which of the outcomes mentioned by their textual guidance and rubrics involve information literacy and the library. These are two distinct things, because IL happens outside the library as well as inside it; in an institution where faculty and librarians work well together, it will even be happening outside librarians' presence. So remember to look at three strands of influence: inside the library, work librarians do elsewhere in the institution, and IL efforts that are library influenced but that happen without direct librarian involvement.

This last strand of IL—library-influenced work that happens without direct librarian involvement—might be the hardest to pin down. You might not even be aware of such efforts, so it's time to talk to your in-house network. Speak to professors, including those who aren't known to you as "library champions," as you likely already know what those folks are doing. Speak to faculty you don't know well, including adjuncts and online faculty. Invite them for a coffee (or a virtual coffee break) and ask to pick their brain. With an open mind, you can learn about needs for future IL work as well as what they might already be doing in their classrooms and online that could go into your accreditation report.

For example, I recently spoke to a librarian who was disappointed to learn that a faculty-created plan for the institution didn't mention the library. But it did mention IL, a fact that she credited to library staff being vocal to faculty about the need to educate students about media literacy. Creating an environment in which IL is front of mind even when librarians are not at the table is quite an accomplishment, and something that should be mentioned somewhere in an accreditation report; if you can't shoehorn it into the strict template provided, work it into any presentation you give to the accreditors when they visit. (Getting a seat at the table the next time faculty members work on an institutional plan can be included in the goals portion of your accreditation report.)

If you're prepared enough to be reading this long before an accreditation visit is looming, or if you're at the point of promising yourself that things will be different next time, take a look at the myriad sources of guidance online that can help you align your work with accreditation goals. Using Google Scholar, for example, you can see case studies of what other institutions have done to meet the same standards you're working towards. Bodies such as ACRL, too, offer tips on how to work so that the "big visit" is just about putting a report together, not figuring out what on earth could go into it.

Lastly, if you use Credo's IL Modules, there is accreditation guidance built into those, as well. In the "Staff" section of the Modules, see the information under the heading "Standards Mapping," where you can find assistance such as a list of which standards are met by which Credo Module. Do you have other advice or case studies to share with librarians who are preparing for an accreditation visit? Be sure to share them in Credo's InfoLit Learning Community. Or do you have an accreditation question you'd like to have answered? You can ask other IL professionals in the Community's discussion forum. If you're not yet a member, sign up here to get started. We look forward to hearing from you!