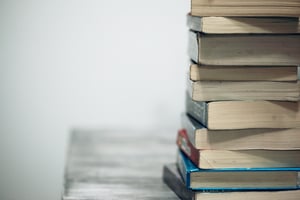 Join the InfoLit Learning Community now. Already a member?Log in here.
Part of last week's webinar, What's New in IL: Credo's Interns Discuss Current Work," focused on innovations. Adding to your work, or coming up with innovations of your own, takes creativity. The following are some books that promise to get your creativity flowing. My favorite, and one I think has endless applications in library work, is Mihaly Csikszentmihalyi's Flow. Flow is a rather serious book, but the list also includes more lighthearted fare that don't directly address academic learning but can still influence your thinking about it.
Finish: Give Yourself the Gift of Done
Jon Acuff
If you're good at starting creative projects but then they linger unfinished, take Acuff's advice and learn how to get things off your plate.

A More Beautiful Question
Warren Berger
The most productive and creative people are intrepid questioners, says Berger. His book teaches readers how to use questions to get to the heart of problems and create beautiful solutions.

The Culture Code
Daniel Coyle
Focusing on group creativity and productivity, Coyle offers case studies of groups ranging from Navy SEALs to stand up comedy troupes. How they get the job done might inspire your work team to try things differently.

Flow: The Psychology of Optimal Experience
Mihaly Csikszentmihalyi
Csikszentmihalyi posits that we experience our most creative and enjoyable moments when we are challenged to understand or do something that is a little difficult. His companion volume, Creativity: Flow and the Psychology of Discovery and Invention, is worth a follow-up read.

The Genius Habit
Laura Garnett
This book will be released in 2019 but is already on Edelweiss. It promises to teach readers how to find and spend more time in their "Zone of Genius," which is defined as "that sweet spot in which you are challenged, fulfilled, and happily engaged in the work you're doing."

Manage Your Day-to-Day
Jocelyn Glei
If organization and avoiding procrastination are stumbling blocks, try this quick read by Glei. It's subtitled Build Your Routine, Find Your Focus, and Sharpen Your Creative Mind, and is here to save you!

Leonardo da Vinci
Walter Isaacson
Who was more creative than the man who drew a helicopter-like design in the 1400s? Da Vinci's life is an inspiration, and Isaacson's portrayal of it will leave you ready for creative action.

Where Good Ideas Come From
Steven Johnson
This history of innovation looks at Darwin, Google, and more to see where the big ideas that shape our world originated and how to spark that kind of thinking yourself.

Creative Confidence
David Kelley and Tom Kelley
These brothers; experts in innovation, design, and creativity; and authors of The Art of Innovation insist that everyone is creative. Here they show you how to bring out the outside-the-box thinking that's already there.

The Creative Habit
Twyla Tharp
Celebrated choreographer Tharp offers here a memoir of her creative process, which is a fascinating read in its own right. The book also, however, functions as an instruction manual for kick-starting your own imaginings.
Making Things Right: The Simple Philosophy of a Working Life
Ole Thorstensen
Master carpenter and contractor Thorstensen here describes one of his projects: a loft renovation. His story shows how to approach (and survive!) an ambitious project with thoughtfulness, ingenuity, and patience.
Have you read any of the above? Share your thoughts in the Credo InfoLit Learning Community! Sign up here to get started!