Join the InfoLit Learning Community now. Already a member? Log in here.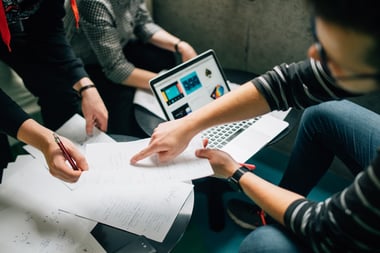 Part of any robust information literacy program is an emphasis on critical thinking. It's not enough to know how to do a search—students need to evaluate the various results they find, figuring out not only which is reliable but also which is most relevant to the topic at hand. Even before the research begins, critical thinking is involved in choosing a topic and approaching the creation of a thesis statement that isn't biased or impossible to answer. Students develop these fundamental skills over time with scaffolded help and guidance from their teachers and professors.
Working against the teaching of critical thinking as an IL skill, however, are the demands facing students and faculty in today's colleges. In this economic climate, students are understandably more concerned with learning tangible skills that have an obvious career benefit. Professors, meanwhile, are being asked to find ways to include more and more content into each class, which can sideline abstract concepts and critical thinking skills in favor of material that will be "on the test."
Happily, many are working to promote critical thinking as an essential element of all college curricula. Ellen Carey, Librarian and Instructor at Santa Barbara City College, has found success in helping faculty and students understand information literacy and critical thinking in a lasting way. Using active learning as the cornerstone of her approach, Carey has bridged the gap between library and classroom and created a robust dialogue between librarians, staff, and students.
Ellen blogs ("occasionally," as her faculty page emphasizes) at Paticcasamuppada. You can check out her poetry there, as well as her musings on library life and "engaging with information," a term she prefers to "doing research." The blog, Carey explains, began as an assignment for a 23 Things class. Remember 23 Things? Originally called Learning 2.0, it was a list of digital literacy skills that librarians should know, devised by librarian Helene Blowers.
In Active Learning in Library Instruction: Engaging Faculty and Students in Critical Thinking Work, the third in Credo's InfoLit Learning Community Speaker Series, Carey will share key concepts and techniques for teaching information literacy and applying the ACRL Framework to your work with faculty and staff.
Ahead of Carey's webinar, think about what "things" your students need to know to become better critical thinkers. Are there discrete critical thinking habits that you wish they displayed? And get ready with your questions—Carey's case study of her own work will be followed by a Q&A session during which you can find out how to apply her advice at your institution. You can post the answers to the above, and any new questions you have in the InfoLit Learning Community. Already a member? Log in here.