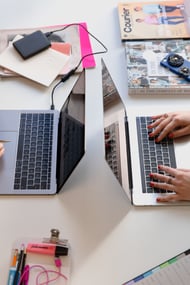 Join the InfoLit Learning Community now. Already a member? Log in here.
Looking for new assignments to give your students this fall? Try your colleagues and virtual network for inspiration and tips if you're creating something from scratch. And if you need a good dose of inspiration first? There's plenty of support to be found online, from content-creation tools to ready-made resources.
For any library endeavor, it's worth checking out listservs. Peer recommendations are a great and free way to get new ideas, and you can also hear from those who've tried an assignment before about what worked and what didn't. It can be valuable to search outside the parameters of your discipline, too—for IL assignments, why not ask faculty who teach psychology and education what they would try with students who are learning to use the library? Or try other student-facing departments in your school. The tutoring center staff might have some ideas, for example. Students themselves could also be a valuable resource. You might, for example, talk to students in a more advanced class than the one you're creating the assignment for. What do they wish they had learned when they were at that level? What kind of assignment would have helped them to master the material?
The following online resources can be of help, too:

Merlot is a free online tool that gathers online learning and support materials and content creation tools. Users can browse existing material by discipline, add material to the site, and use Merlot as a content and portfolio creation tool. The thousands of assignments can be searched by sub-discipline and content type, such as assignment.

Based at the University of Illinois and Indiana University, National Institute for Learning Outcomes Assessment (NILOA) "assists institutions and others in discovering and adopting promising practices in the assessment of college student learning outcomes." Among the resources housed at the site is information on how to conduct an assignment charette, an exercise in which educators present and get feedback on assignments they use or are building.
Community of Online Research Assignments (CORA) offers assignments that are searchable by ACRL Frames ("Research as Inquiry" "Authority is Constructed / Contextual"), discipline, ability level, and whether it is for use with individuals or groups.

And don't forget, the Credo InfoLit Learning Community also offers a way to get your peers' feedback on your assignments. Sign up here by clicking on "Register Now" and use the discussion area to post a question on assignment creation or an assignment you'd like help with. We look forward to hearing from you!