Join the InfoLit Learning Community now. Already a member? Log in here.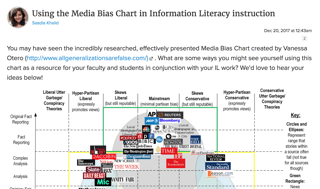 Over the past year, media bias has been a trending topic, and educators - particularly librarians - have taken on the task of increasing media and information literacy among students in our institutions. What have we learned this past year as we delved into this complex and, at times, controversial issue? How have we grown as educators and how have we changed our programming to accommodate the public's need for better education around media bias?
As the conversation around the issue of media bias has developed, many new studies and resources have emerged to help us navigate this increasingly relevant phenomenon. In the InfoLit Learning Community, we are sharing these new resources and fostering discussion between librarians for ideas on how to use them.
In our InfoLit Learning Community, we look at information literacy from all angles; discussing misconceptions, analyzing case studies, and sharing programming ideas that work for your institution. With robust resources, tips, and best practices, librarians are able to connect and share experiences on effective implementation strategies for InfoLit programs.
Make sure to join in on our InfoLit Learning Community discussion groups to gather media bias resources and learn how other librarians are using them. Already a member? Log in here.