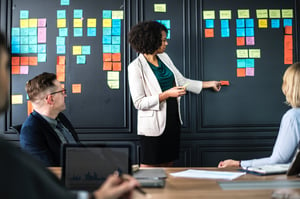 Join the InfoLit Learning Community now. Already a member? Log in here.
On August 23, Amanda DiFeterici, Senior Manager, Product Strategy, at Credo, presented "Running an Assignment Charette: How to Host an Assignment Improvement Event." The webinar, which you can view for free in Credo's Learning Community, was described by one attendee as "one of the best webinars I've ever had the pleasure of attending."
What is a charrette? It's a rapid-fire presentation-and-feedback session. In just a few minutes, assignment creators present material to their peers to get ideas for improvements, additions, and deletions. It's important that the event is run by a moderator who will keep things on track and help attendees to get the most out of the time.
While charrettes are a relatively new practice—introduced and championed by The National Institution for Learning Outcomes Assessment (NILOA)—the idea that assignments should be of better quality and more relevant to student outcomes has gained traction in recent years. In particular, the backward design movement, which says that student outcomes should guide learning experiences, has gained considerable ground and helped make instruction more strictly tailored toward specific, measurable results.
DiFeterici described this shift in educational culture and what it means for librarians, then outlined in detail how an assignment charette should be conducted. The following are some of the tips she offered during the one-hour session:
Familiarize attendees with what information literacy is before the event

It is best if faculty from various disciplines attend the charette

Divide attendees into groups of 3-5 people

Choose a timekeeper for the room or per group

Spend around 25 minutes per "round"

In each round, one presenter takes about 5 minutes to explain their assignment, then it is discussed for 15 minutes, then there are 5 minutes of feedback

Be ready with a sheet of questions that can work for any assignment—"Is the assignment built around specific outcomes?" "What are the strengths of this assignment?"
For more, please see the webinar in Credo's InfoLit Learning Community as well as NILOA's guidance on running a charrette. What do you want to see next in our InfoLit Learning Community? Share your thoughts in the InfoLit Learning Community! Already a member? Log in here!