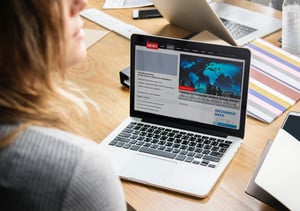 Join the InfoLit Learning Community now. Already a member? Log in here.
Last weekend, Nancy Speisser, Assistant Vice Chancellor for University Libraries, South University and Etta Verma of Credo presented together at the Virginia Library Association conference in Williamsburg, VA. The presentation, "Beyond Fake News," concentrated on how to teach students about what journalists do—what happens when they get it right, and, conversely, the consequences when they get it wrong. The talk aimed to show students that while journalism, journalists, and "the mainstream media" have recently come under fire for bias, serious journalists are expected to adhere to strict standards and their work is fact-checked.
The program offered information on how to read laterally, meaning how to read about a website and an author from sources other than the one at hand, and how to fact check. You can find the slides here. The resources section offers a number of items that may come in handy when teaching a related class; for instance, resources include sites that aid in uncovering the ownership of a website and others that illustrate the importance of identifying what sites are linked to a particular site.
A lively discussion ensued during the presentation, with the librarians present offering numerous examples of students and patrons who were either too trusting of unreliable sources or distrustful of any source, no matter how professional it was. What emerged was a consensus that by now, librarians are comfortable with various techniques that can be used to help students figure out what is disinformation and what's reliable and can be used in a research paper or other college assignment. Making students care about "fake news," however, is another matter, and one that the presenters and attendees were largely at a loss to address. We're in the market for answers, then!
Have you found a way to make your students care about whether the information they find is reliable or not? To have them move on from the first resource they find if it's not accurate? We're eager to hear what works for you. Please let us know in the comments below.
To join the conversation on "fake news" and other topics, visit us in the InfoLit Learning Community, where you can find all our free webinars, discussion forum, and IL resources. Already a member? Log in here!