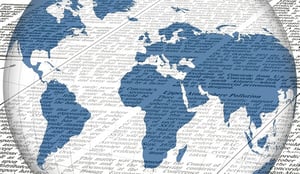 Below you'll find a curated selection of new reports available on the open web (for free!). These are intended to expand the breadth and depth of research on the topics covered and assist users in finding reliable sources on breaking news.
Global Trends in Democracy: Background, U.S. Policy, and Issues for Congress
Source: Congressional Research Service (via EveryCRSReport.com)
Keywords: Democracy, United States, Government, Trends
The Life of Women and Men in Europe — a Statistical Portrait — 2018 Edition
Source: Eurostat
Keywords: Gender, Statistics, Europe, Demographics
Global Hunger Index 2018 (13th Annual)
Source: Concern Worldwide
Keywords: Hunger, Food, Health, Food Security
Global Climate Report – September 2018
Source: National Centers for Environmental Information
Keywords: Climate, Environment, Statistics, Climate Change
Profiling Who ICE Detains – Few Committed Any Crime
Source: TRAC/Syracuse University
Also Available: Interactive Data Tool
Keywords: Immigration, Immigrants, ICE, Statistics, United States
Data Sources and Data Linking: Strategies to Support Research to Address the Opioid Crisis
Source: Dept. of Health and Human Services
Keywords: Health, Medical, Opioids, Crisis, Research
Open Resource to Check Out:
Source: MIT Center for Civic Media and the Berkman Klein Center for Internet and Society at Harvard University
In Their Own Words: "Get a quick overview of how your topic of interest is covered by digital news media by exploring attention, language, and entities."
Keywords: News, Media, Trends, Press, Visualization, Data
---