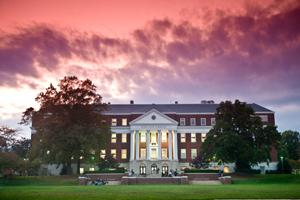 By Lindsay Inge Carpenter and Raymond Pun
FYE Correspond Raymond Pun recently interviewed Lindsay Inge Carpenter from the University of Maryland Libraries. Lindsay shared her passion in supporting FYE programs and international students, and discussed how the library plays a major role in fostering learning innovations and key collaborations on campus.
Ray: Thanks for speaking with us! Can you tell us about your role and briefly describe the FYE activities that you and your library have done recently?
Lindsay: As First Year Experience Librarian, I manage several of our first year initiatives. I oversee our long-standing partnership with the Academic Writing Program. Through this partnership, we reach over 4,000 first year students each year through in-class information literacy instruction. We also support students outside of class through workshops, walk-in hours, and one-on-one appointments.
I also work closely with international students in the University of Maryland English Institute. In addition to research skills, these sessions address adjusting to American universities and academic libraries. I'm very fortunate to work with a wonderful team of librarians, graduate assistants, and MLIS students in our Research & Teaching Fellowship. I appreciate their innovative ideas and deep commitment to working with first year students.
Ray: Why do you think it is important for libraries to be involved in supporting the FYE?
Lindsay: I really love first year students. It's always so sad to tell someone what I do and have them respond, "You work with freshmen? Good luck with that!" The truth is, first year students (whether they are freshmen, transfer students, international students, etc.) are a delight to work with. They are essential to campus life: they bring new ideas and diverse experiences, and are not afraid of questioning the status quo. I really believe that they are what keeps us moving forward as an institution.
First year students are often in a vulnerable position on campus; they are adjusting to a new environment and are still figuring out what their support network will look like. I think libraries, through FYE engagement, can position ourselves as one piece of that support network. We encourage innovation and discovery, things that first year students are engaged in every day.
No matter what major they decide on, or what area of research they pursue, the library is in a position to support all students. By embracing first year students when they first arrive, we can be partners throughout their journey.
Ray: We appreciate you sharing your upcoming programs and thoughts on FYE! One last question: what's next for FYE support in your library?
Lindsay: I'm very excited for the next few years at the University of Maryland — we have lots of great things planned! Priorities for me are expanding our support for first year students to other programs in the General Education curriculum, developing a mission and strategic plan for online learning in our library instruction, and addressing accessibility in our online and in-person instruction.
I'm proud to serve as assistant director of the UMD Libraries Research & Teaching Fellowship, a three-semester teacher-training program for MLIS students. Our Fellows carry the bulk of our first year instruction, and are absolutely essential to our FYE programming. I look forward to continuing to work with them and seeing how the Fellowship continues to grow.

Lindsay Inge Carpenter is the First Year Experience Librarian at the University of Maryland, where she also serves as the Assistant Director of the UMD Libraries Research & Teaching Fellowship. Lindsay's research interests include mentorship, international librarianship, critical librarianship, and critical pedagogies.
---