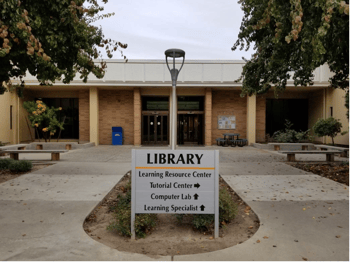 By Mai Soua Lee-Cha and Raymond Pun
In this interview, librarian Mai Soua Lee-Cha explains her many different roles at Reedley College, a community college in California. Mai Soua tells FYE Correspondent Ray Pun that librarians are "aware and cognizant that FYE is the most crucial pathway for success in college and lifelong achievement" and shares how the library at Reedley College supports these efforts in the FYE space.
Ray: Thanks for speaking with us! Can you tell us about your role and briefly describe your library's recent FYE activities?
Mai Soua: I am fortunate to be able to wear many hats in my library. I am a Cataloging, Instruction, and Reference Librarian at Reedley College (RC). In my role as an instruction and reference librarian, I get to work closely with first-year students (FYS), both traditional and nontraditional, in the areas of information competency and research. This semester, I initiated the collaboration of a series of workshops that included two sessions introducing the library: citation and plagiarism, and library research and resources at the library. The workshops were created with FYE of students in mind, as well as general students. To successfully achieve workshop objectives and ensure FYS participation, librarians collaborated with instructors to offer extra credit as well as embed workshops in their course assignments. Furthermore, partnerships with campus departments and centers created even more visibility for students to take advantage of the series of workshops.
Ray: Very true! The library is very relationship-centered and so campus partnerships are key to building visibility, collaboration, and opportunities for student engagement and success. Why do you think it's important for libraries to be involved in supporting the FYE?
Mai Soua: I think it is important for librarians and libraries to recognize a true fact that students come in different shapes and forms and they bring many diverse academic experiences. For some students, they are coming to us far away from home, and for some, they are first-generation college students. With these critical characteristics in mind, librarians and libraries must ensure FYE is a success because it is the one method in which I believe we receive buy-in from students. In other words, it's how we keep them coming back to the library. At my library, librarians are aware and cognizant that FYE is the most crucial pathway for success in college and lifelong achievement. As a librarian, FYE is a critical aspect of my duty and it is vital to me that the library fully support FYE by providing outstanding services and resources so students may achieve their academic objectives.
Ray: That's an interesting perspective, particularly from a community college and how you consider students who are first generation or commute from a distance. What's next for FYE support in your library?
Mai Soua: The library continues to play a pivotal role in student learning and success at Reedley College. We impact student learning experience by continuously supporting students in all aspects of academic achievement. I believe we have built and established great relationships with our students as well as strong partnerships with our faculty and staff. Moving forward, the library will continue to explore diverse opportunities to become even more visible to student and faculty in terms of library support and services, especially in the areas of FYE. My goals as an academic librarian at Reedley College is to focus highly on FYS, because I want to ensure FYS college experience is a success and they are well prepared for college continuation/advancement.
Mai Soua Lee-Cha or Niam Vws Tsab is a Hmong librarian and is currently at Reedley College. Mai Soua recently earned her doctorate degree in Educational Leadership from California State University, Fresno in May 2017. As an academic librarian, Mai Soua takes much pride and joy in developing curriculum-based programming, teaching library information competency and research skills, and engaging in campus wide collaborations and initiatives. As a Hmong woman in higher education, her passion lies in preserving and sharing the Hmong culture, history, and language through storytelling and modern education. Mai Soua believes education is key to igniting positive changes in the Hmong community, especially for Hmong women. Mai Soua holds an M.L.I.S. from San Jose State University and a B.A. in Liberal Studies from California State University, Fresno.