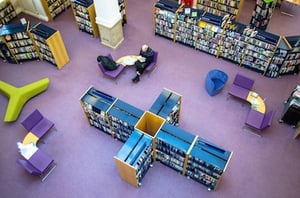 Entire countries are making the switch from print to electronic, and not with just books, but entire collections, including hand written manuscripts, newspaper editions, radio broadcasts and TV programs. The UK and Finland were some of the first to make this transition, and the United States created the first completely online library with over 2 million items. Now Norway is following suit. This migration, by law, requires this content and media to be submitted to the National Library, which will allow anyone with a Norwegian IP address to access all the materials for free.
This raises the question - If we put everything online, how will the physical library space survive?
There is no doubt that electronic resources have gained popularity over print materials in general. Although the debate between physical book vs Kindle e-readers is still a heated one, there are no intentions of getting rid of the physical library space due to the switch from P to E. Physical library space is far more popular than most would imagine.
According the ALA's Quotable Facts about America's Libraries, there are currently more libraries in the US than there are Starbucks. The library has also evolved into more than a place where you can read books and conduct research. Just like Starbucks, libraries have free wifi and, more times than not, computer stations you can use free of charge. According to the Pew Research center, two-thirds of Americans say that they have medium to high engagement with their local libraries, with 30% of that population being a younger crowd.
Print to electronic migration is beneficial for more than easy online accessibility. Libraries are also converting their collections to free up the space and resources used to maintain the print collections, and are dedicating these to the many other functions the library serves. Libraries are no longer just for reading and researching, but have morphed into a space for community. Communal spaces can be difficult to come by when not on a college campus. The general public has turned to libraries as a place to host meetings, learn new skills, explore the arts, and more.
While books might be leaving the shelves of your library and finding new homes online, all the other resources that the library provides are here to stay.