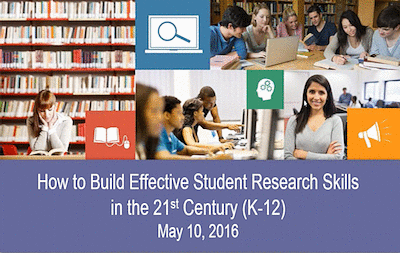 High School librarians Amy Voorhees and Rachel Bielby recently joined us to share how they bridge the gap between library and classroom to prepare students for college-level research. Amy is the library director at Kent School in Kent, Connecticut, and Rachel is the librarian at Sacred Heart-Griffen School in Springfield, Illinois.
This quick and informative 30-minute webcast was full of ideas on how to:
Collaborate effectively with teachers on instruction
Develop (pre)research with reliable, foundational background information
Enable students to explore related concepts and build subject vocabularies
Boost embedded subject-specific bibliographic instruction
For example, with regard to collaboration with faculty, Amy spoke to how her library works with teachers who use long-standing research assignments (12:58) to keep them abreast of new resources and technology the library uses so that these assignments can be revised and updated over time.
Rachel outlined her "Use this, not that" framing when teaching students about conducting research on the internet (23:50). One of things she's noticed is that whenever she asks students how they know if a website is reputable, the first answer is invariably that websites ending in .org or .edu are always trustworthy. Watch the video below to see how she responds.
Continue the conversation with us at @credoreference, using the hashtag #ReferenceStrategy.