I know what you're thinking: you simultaneously want to get the most out of one of the great platforms your library subscribes to, network with your local peers, and eat free food, but you just don't know how to go about making this happen. Credo workshops to the rescue!
We've been hosting on-site workshops with subscribers for a while now, and if I do say so myself, we're pretty darn good at it. We'll train you up right with regard to the platform and information literacy tools, then engage in a lively group discussion about library usage. The whole process takes about three hours, with the third hour dedicated to the all-important free lunch.
If you're interested in hosting an on-site workshop, we're looking for a room where we can seat no more than 20 people for the discussion and training. Also, it's usually best if the hosting institution is somewhat centrally located, so customers from different libraries can attend.
Do you want to host? Sent us a note to training@credoreference.com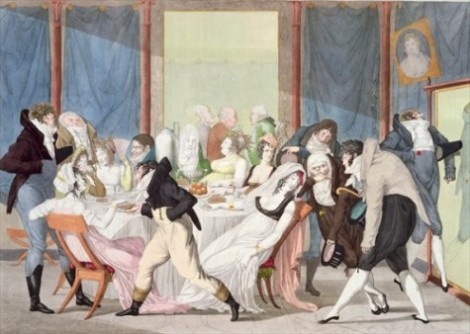 Image: CHT257961 A Parisian Tea Party , c.1800 (colour litho) by Harriet, Fulchran Jean (1778-1805) (after); Private Collection; (add.info.: Un The Parisien; Supreme Bon Ton au Commencement du 19eme siecle; engraved by Adrien Pierre Francois Godefroy (1777-1865); social history;); Archives Charmet; French, out of copyright