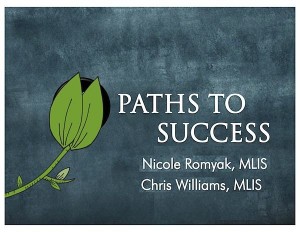 Nicole Romyak and Chris Williams of Horry Georgetown Technical College recently joined us to discuss the four paths librarians should take to increase faculty collaboration.
Get to know your faculty

Play to staff strengths

Show them how you can save them time and effort

Increase faculty awareness and involvement
Some key takeaways from their presentation:
Nicole recommends reaching out to new faculty upon their arrival (and following up a few weeks later) so that from day one they identify the library as a welcoming group with resources and supports that can make their job easier.

The two provided a great example of playing to staff strengths. Nicole said she is best in one-on-one meetings, while Chris prefers presenting to groups of students. Playing to their strengths, she meets with faculty to set up information literacy sessions, which are then delivered by Chris.

Chris named their embedded librarian program and their creation of LibGuides as the two things that most save the faculty time and effort with regard to IL.

Their stipend program: Through library liaisons, faculty are awarded funds from the library budget with which to choose any item that they need for their students to supplement their course teaching. According to Nicole:
"When they do this and … when they're responsible for helping build those collections, they utilize the collections and direct their students to the collections more often."
Their presentation begins at the 19:40 mark of the video below. Click here for the full transcript.
Continue the conversation with us at @credoreference, using the hashtag #ReferenceStrategy.