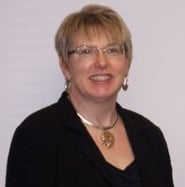 Rebecca Donlan, Assistant Director for Collection Management at Florida Gulf Coast University Library, presented during our Faculty Engagement webcast on how collaboration between faculty and librarians in the school's FGSU Scholars program has mutually benefited all parties.
The Scholars program is a joint effort of librarians and university faculty to incorporate information literacy and critical thinking skills instruction across the curriculum in a systemic, measurable way.
"I think as librarians we have a particular advantage in that we're really aware of the conversational back and forth iterative building process of research and writing. We have overarching perspective of the nature of scholarship and communication. We collect, preserve, teach, and promote the fruits of the scholarly conversation."
Key takeaways from Rebecca's presentation:
Far from a one-shot, the Scholars Program follows the undergrad through all four years, building on a foundation of General Education toward the creation of scholarly products in capstone courses.

"If you're not classified as faculty, and also if you are, go to meetings, receptions, lectures, wherever the faculty go."

Accreditation provided the opportunity: FGCU's regional accrediting body (SACS) required a Quality Enhancement Plan (QEP), through which the library was able to submit a proposal that was merged with the English Faculty's proposed, ""Writing, Critical Thinking, and Literacy Across the Curriculum."
Rebecca's presentation begins at the 3:15 mark of the video below. Click here for the full transcript.
Continue the conversation with us at @credoreference, using the hashtag #ReferenceStrategy.