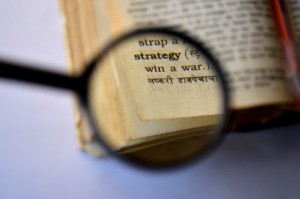 The world of reference is changing. Does your library have a strategy toadapt and innovate? In August we looked at how reference has and hasn't changed in the last 140 years. Over the next several weeks we'll look at what reference strategy means to different libraries and reference publishers, and what tactics they're employing to adapt to reference in the 21st century.
Reference Strategy is a broad term that applies to several fronts:
Marketing

reference to today's researchers

Physical space

opened up by the conversion to digital resources

Time

previously dedicated to ready reference help

Instruction

honing information literacy skills of students and researchers
Next week we're happy to have Buena Vista University's Library Director, Jodie Morin, who will host a webinar on The Four (or Five?) B's: Preparing for the Research Process. Describing the topic, Jodie says, "When faced with a research assignment, college students often turn to Google first. The Four (or Five?) B's is an alliterative approach to persuading students that a few minutes spent doing background research is a wise investment of their time."
Join us Tuesday, September 15 at 3:30pm EDT for this 30 minute webinar which will include Q&A with our speakers, and a brief update on the latest news from Credo. We hope to see you there! Register now! In the meantime, tell us about your library's reference strategy on Twitter using the hashtag, #ReferenceStrategy.
Jodie Morin is the Library Director at Buena Vista University Library in Storm Lake, Iowa. She received her M.A. in Library Science from the University of Iowa. Jodie is actively involved in library instruction at BVU and meets with several classes each semester to introduce them to research methods that don't necessarily involve Google or Wikipedia. She is also the mother to two Millennials, who have served as her very own in-house experimental subjects.