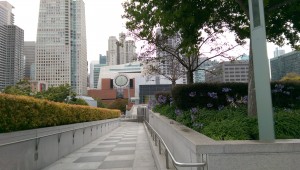 Credo's grant gave me resources and opportunity, allowing me to attend the American Library Association (ALA) meeting in San Francisco. I first encountered Credo Online Reference Service and Literati at ALA Chicago. Attending ALA in San Francisco (ALA/SF) this year, basically made Credo & Literati my "reference tools." It did for me what I use Credo and Literati to do for my patrons: it gave me the resources and the opportunity to connect with professionals.
Attending ALA/SF gave me resources. Like the reference collection in Credo, attending ALA/SF connected me to history, giving me primary resources for understanding momentous events in history. Roberta Kaplan's keynote address gave me a unique understanding of how she came to stand in the Supreme Court arguing for the defeat of DOMA (on the day when the court's decision was announced) and why being a lawyer mattered. Enoch Pratt Free Library, a branch of Baltimore's library system that received the inaugural People First Prize, gave me a unique view into the Baltimore unrest and how libraries, as place, are important to their communities. Gloria Steinem described the formative role that libraries and equal access to information played in her work toward individual rights and a more just world.
ALA/SF gave me the opportunity to connect with professionals. Without the Credo grant I would not have been able to attend the Library Leadership and Management Association's Membership Committee Meeting, of which I was being made chair. The committee works with diverse library leaders, from the smallest public or school library to the largest complex university system, to broaden the audience for educational and professional developmental resources to librarians.