Even the most seasoned late-week crossword veteran needs a little help every now and then. Or maybe you know a puzzle veteran who likes to frequent the ethical gray areas surrounding crossword completion integrity. Either way, Credo's got a tool to help get them over the hump, so they'll never have to leave a half-finished puzzle on the kitchen table as a monument to their lexiconic shortcomings. Just direct your patron, friend, or "friend," to this tool, found on the Tools page of all Credo online reference platforms. From there they can use what letters they know to see a list of possible solutions. What's more, the words link to reference articles to ensure the user has the right answer to their clue.
Bonus tip: It solves anagrams too, which means--wait for it--Words With Friends / Online Scrabble assists that can't be beat.
Looking for a poster to advertise this invaluable tool to your users? We've got you covered there too. Click on the image below to get the full high-resolution poster: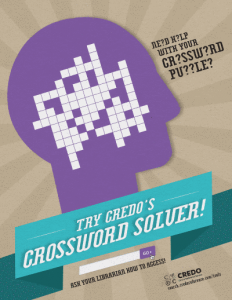 For more tips like this one, attend a training session with me! Check out the Credo Toolbox to learn more!