We understand your library wants to post fun content to social media but that you might not have the time to dedicate to writing it, so we'd like to help!
Below you will find daily posts, all under Twitter's 140 character limit (good for Facebook too), that you can copy/paste at your leisure, each linking to a Topic Page, which, for Credo Online Reference Services or Literati subscribers can be a gateway to all kinds of e-resources.
Some bonus monster tweets in celebration of Halloween can be found at the bottom of the page.
This content is free for the taking, no character-eating attribution to us necessary!
PS: The images below are all in the public domain, with attributions at the bottom of the page.
Wednesday

1 October

Serve up World Vegetarian Day like a forgiving rapper: no beef for anybody. bit.ly/1tQk5GU

Thursday

2 October

One thing to love about Hermione Granger is that she was magical and STILL did research the right way http://bit.ly/YGK09j

Friday

3 October

Reunited and it feels so good. East and West Germany linked up again this day in 1990. http://bit.ly/1pm28wc

Monday

6 October

Emma Bovary deluded herself with romanticism, but you have access to facts with great resources like this TopicPage: http://bit.ly/ZkBQEL

Tuesday

7 October

Poltergeist translated literally from German means "spirit who makes a racket." http://bit.ly/ZkBUnZ

Wednesday

8 October

Do you like apples? Well Matt Damon was born during peak apple-harvesting season. How do you like them apples? http://bit.ly/1vr7Lhu

Thursday

9 October

It might confuse Leif Ericsson to learn that his holiday is mostly celebrated in the landlocked Midwest http://bit.ly/1nAavJw

Friday

10 October

Over easy? Scrambled? What's your favorite egg dish on this, World Egg Day? http://bit.ly/1pm2tyM

Monday

13 October

In honor of ColumbusDay we made this shortcut to India's TopicPage, but accidentally linked to the Bahamas instead

http://bit.ly/1xu425Y

Tuesday

14 October

Time to go nuts for National Squirrel Awareness Month! http://bit.ly/1rF9DTJ

Wednesday

15 October

Research in the 21st Century without a librarian to guide your way can be scarier than Stephen King's imagination http://bit.ly/1mGZOnM

Thursday

16 October

Explore leadership skills _like a boss_ with this leadership TopicPage! Happy National Boss's Day! http://bit.ly/1oqk0Wx

Friday

17 October

Al Capone had money fame & power... but could have used a better accountant. He went to prison this day in 1931 http://bit.ly/1BwnRat

Monday

20 October

"Down Under" doesn't describe the Sydney Opera House's relationship to its initial budget. It opened this day, 1973 http://bit.ly/1uW7B03

Tuesday

21 October

With more cannonballs than an 80s movie pool scene, Admiral Nelson beat the French & Spanish at Trafalgar bit.ly/1lhBNmo

Wednesday

22 October

What came first, planes or parachutes? The 1st parachute jump happened in 1797, preceding planes by over a century! http://bit.ly/1rvW1si

Thursday

23 October

High five a chemist at 6:02 today in celebration of Mole Day! http://bit.ly/1CB0YVV

Friday

24 October

This day in 1929 Wall Street went belly up faster than a goldfish won at a carnival stall. http://bit.ly/1pCFbUH #GreatDepression

Monday

27 October

"let me live, love, and say it well in good sentences"

Sylvia Plath was born this day, 1932 http://bit.ly/1vpJVSh

Tuesday

28 October

Give me your tall

Your copper

Your giant statue yearning to symbolize freedom

#StatueofLiberty dedicated 128 yrs ago http://bit.ly/1vpJYNX

Wednesday

29 October

If you think the name 'Frankenstein' refers to the tall greenish guy, you may need to study up on your monsters: http://bit.ly/1u6kRRW

Thursday

30 October

Mars didn't actually attack this day in 1938, but try telling that to listeners of "Mercury Theatre on the Air" http://bit.ly/1vrcuzG

Friday

31 October

The "treat" of strong Info Lit skills is not being "tricked" by dubious sources. Happy Halloween! http://bit.ly/1vpKcVo
Zombies and Mummies and Vamps, Oh My!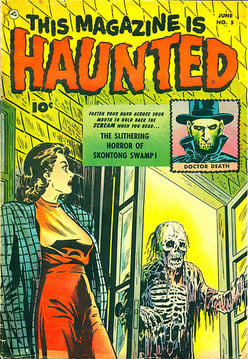 Yes, Credo does have a Zombies TopicPage. The link was dead for minute, but it's up now -> http://bit.ly/10ewdbm
Vampires, often portrayed as immortal, are both literally and figuratively long in the tooth: http://bit.ly/1DRSj2F
Mummies are the only things with more curses than an uncensored Joe Biden. http://bit.ly/1wRe3Hp
Werewolves of old obsessed over the waxing moon; today's breed seems more preoccupied with waxing their chests http://bit.ly/1ry8JIx
Researching mythology using just Google is more dangerous than wearing red to meet the Minotaur. Use this TopicPage: http://bit.ly/1uwWfDl
Images:
Death and the Miser, Jan Provoost (1462–1525/1529) [Public domain], via Wikimedia Commons, http://commons.wikimedia.org/wiki/File:Jan_Provoost_-_Death_and_the_Miser_-_WGA18447.jpg?fastcci_from=948196
WeirdTalesv36n2pg038 The Werewolf Howls.png, Mont Sudbury [Public domain], via Wikimedia Commons, http://commons.wikimedia.org/wiki/File:WeirdTalesv36n2pg038_The_Werewolf_Howls.png?fastcci_from=9646943
HalloweenPumpkin.JPG, By Raysonho @ Open Grid Scheduler / Grid Engine (Own work) [CC0], via Wikimedia Commons. This file is made available under the Creative Commons CC0 1.0 Universal Public Domain Dedication. http://commons.wikimedia.org/wiki/File:HalloweenPumpkin.JPG
Study of a Witch, Luis Ricardo Falero [Public domain], via Wikimedia Commons, http://commons.wikimedia.org/wiki/File:Study_of_a_Witch,_by_Luis_Ricardo_Falero.jpg
Haunted1.jpg, By Cover by Sheldon Moldoff (This Magazine is Haunted # 5, June 1952) [Public domain], via Wikimedia Commons, http://commons.wikimedia.org/wiki/File:Haunted1.jpg?fastcci_from=948196