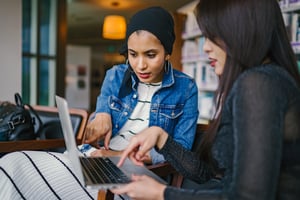 Last week I talked about the unique needs of second-year students, a group all too often overlooked in higher education. The "sophomore slump" is a phenomenon we take for granted, but there are strategies we can use to support students who, after making it through their first year, still face challenging transitions. Here are a few things I've learned about working with second-year students as a faculty mentor for Ohio State's Second-Year Transformational Experience Program (STEP) and as the coordinator of library workshops for the STEP Professional Development Co-Curricular series:
Respect their prior experiences. Provide opportunities for students to identify prior knowledge on a topic at the beginning of instruction sessions. Not only does this emphasize your recognition of their experiences, it also gives them a chance to integrate that knowledge into the new information you're sharing.
Provide structure. This period of intense self-authorship can be very bewildering and disconcerting. Providing some structure reassures students that there are some certain things on which they can rely or which are expected of them.
Offer choices. Within that structure, provide options and choices. This builds confidence for decision making in lower stakes situations. It also honors their individuality and allows them to practice exercising agency over their learning.
Let them change their minds. Second-year students are trying out perspectives, values, interests, etc. They might be passionate about subject A and then 2 months later focus on subject B instead. Reassure them that this is healthy and normal.
Explain why. When you ask students to do something, explain 'why' as well as 'what.' This shows respect for them and helps them to see how it all fits into the overall context of your role in their education.
Don't treat them like first-year students. Avoid providing the same generalized and orientation-focused sessions that are popular in first-year programs for second-year students. When programs are offered for both first- and second-year students, explain why, and provide a chance for second-years to offer to the group knowledge they already have on the topic at hand.
The most important thing to remember when working with second-year students is best stated by Molly Schaller, a leading researcher on second-year students: "The door to self-authorship opens in the sophomore year."*

*Schaller, Molly A. (2018). Intentional Design of the College Sophomore Year. Chapter two of Sophomore Success: Making the Most of the Second Year, edited by Laurie A. Schreiner. New Directions for Higher Education, no. 183.

Beth Black is the undergraduate engagement librarian and an associate professor at The Ohio State University. She helps undergraduates learn about how the library supports their success through integration of library information and resources in a variety of student experiences. She focuses on first- and second-year students, working closely with Ohio State's award-winning First Year Experience and Second-year Transformational Experience Program (STEP).