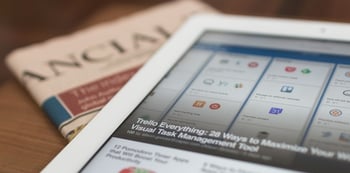 Tens of thousands of new pieces of content appear online daily, and sorting through it can be a challenge for everyone from consumers, to media platforms, to search algorithms. As we've seen over the past year, this jungle of information provides plenty of camouflage for purveyors of fake news.
Their motivations may be a political agenda, advertising revenue, or the nihilistic obfuscation of truth for its own sake. No matter the reason behind any individual piece of fake or biased news, the epidemic of purposeful misinformation has become a global problem.
In response to this, The Trust Project was founded as a consortium of dozens of companies seeking to help information consumers better evaluate the news coming across their screens. High profile members so far include The New York Times, The Washington Post, Mic, The Economist, and more. Hosted by the Markkula Center for Applied Ethics at Santa Clara University, the initiative identified 8 "trust indicators" to be embedded in the HTML code and displayed on companies' sites and/or individual pieces of work.
Best Practices

Author Expertise

Type of Work (news, opinion, analysis, or sponsored content)

Citations and References

Methods

Locally Sourced

Diverse Voices

Actionable Feedback
For a full description of what each category means and how it is assessed, see the Markkula Center's page.
We have seen time and time again how hard information consumers of all ages struggle to evaluate sources they find online. This project is an important early step in establishing a set of standards users should look for, and also providing easy-to-understand labels on individual articles to clarify how that piece was written and how it should be considered in the larger context.
It should be noted that this represents a new tool for fighting fake news, not a solution to the epidemic. It still falls on educators and librarians to teach people the foundational information literacy and critical thinking skills they need to understand the world around them, all of which will be much easier with increased transparency from news, social media, and search sites.
---