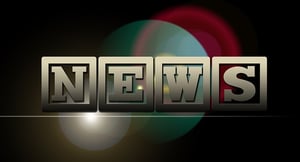 Credo supports affordable learning with thoughtfully curated open educational resources. This blog provides easy, free access to open web resources published by government entities, think tanks, and more. Our goal is to provide a wide variety of resources that may be relatively unknown or difficult to find on the open web for librarians, students, and all audiences to elevate background information on issues happening today in near real-time. Curate, collect, distribute, save time and energy for enhancing information awareness in libraries around the world. We encourage you to share.
---
In Open Web News: Timely Topics
These helpful sources are open and offer background on current events of global importance.
Iran Nuclear Agreement:
This month, the U.S. pulled out of the Iran Nuclear Agreement, an Obama Administration benchmark. The reports below were selected from the many CRS reports that Steven Aftergood from the Federation of American Scientists (FAS) and EveryCRSReport.com make available online.
Keywords: Iran, United States, Trump, Nuclear, Sanctions, U.S. Policy
U.S. Prisons:
The U.S. prison population is regularly under scrutiny. See the newly released reports below from the U.S. Department of Justice indicating a drop in the overall population over the last 9 years.
---
In Case You Missed It: New Open Resources
CNBC has launched a new searchable video archive of material featuring Warren Buffett. Interview clips, complete shareholder meetings, and more are included for free searching and retrieval.
Keywords: videos, news, database, archive, CNBC, media
---
Did You Know? Open Resources to Bookmark
The Internet Archive's Wayback Machine allows Users (for free) to quickly and easily archive most web pages or PDF files on-demand. Simply enter the url and the Wayback crawler will visit the page or file and then provide you with a direct url to what you've archived. This is a free service.
Keywords: Wayback Machine, archive, crawler, database
Econbiz.de is a free to access database featuring open access academic content in business and economics. You'll also find a separate database of business and economic conferences taking place around the world.
Keywords: open access, business, economics, database
Are you aware of the OpenDOAR directory? If the answer is no, you should be. In their own words, "OpenDOAR is the quality-assured global directory of academic open access repositories. It enables the identification, browsing and search for repositories, based on a range of features, such as location, software or type of material held." There is no charge to use OpenDOAR.
Keywords: open access, directory, United Kingdom, database