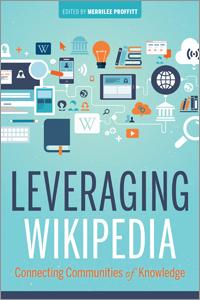 Join the InfoLit Learning Community now. Already a member? Log in here.
This review, by Credo's Henrietta Verma, appeared in the October 4, 2018 edition of Booklist Online. The collection of essays by librarians and educators describes innovative classes and projects that use Wikipedia to advance information literacy. Are you using Wikipedia editing or other practices related to the site in IL instruction? Please let us know in the comments below.
Leveraging Wikipedia: Connecting Communities of Knowledge. Proffitt, Merrilee (editor).
Feb. 2018. 263p. ALA Editions, paper, $68 (978083891632); e-book 97780838917329). 030. Review first published October 4, 2018 (Booklist Online).
It is time librarians moved beyond decrying Wikipedia as something to warn against, say the authors of this useful theory and practice combination. The site is better viewed, they explain, as an information-literacy tool, a way to expand awareness of the social construction of information, a means for libraries to collaborate with cultural institutions, and more. One of the most useful entries comes last; it is by Proffitt, the collection's editor, a senior program officer at OCLC Research, and she discusses her path from a fledgling, mistake-making Wikipedia contributor to an experienced Wikipedian, along the way experiencing the possibilities and tensions inherent in the Wikipedia-library relationship. The preceding 14 entries build toward Proffitt's story by offering compelling views on the various ways in which information workers have embraced, improved, and drawn from Wikipedia. In "Connecting Citizens and the Military," for example, chief librarian Theresa A. R. Embrey discusses how staff, interns, and volunteers at Pritzker Military Museum and Library in Chicago have used information from the library's collection to fill Wikipedia's coverage gaps. "Minding the Gaps," by Kelly Doyle, Wikipedian in residence for gender equity at West Virginia University Libraries, covers the reasons for and the dangers of Wikipedia's editors being mainly white males from the Western world, and how to change that. On the more technical side are entries on the semantic web ("Wikipedia and Wikidata Help Search Engines Understand Your Organization") and metadata ("Bringing Archival Collections to Wikipedia with the Remixing Archival Metadata Project Editor"). Many librarians will find something of interest in this wide-ranging work; the entries are also excellent springboards for library-school discussions. A worthwhile purchase.
To join the conversation on this and other topics, visit us in the InfoLit Learning Community, where you can find free webinars, a discussion forum, and many IL resources. Already a member? Log in here!