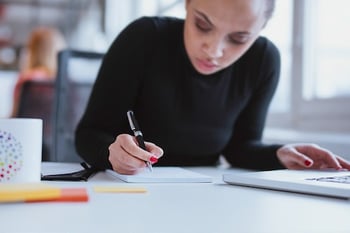 For many students, the hardest part of writing a paper is getting started. Oftentimes either can't settle on a topic, or they feel overwhelmed by the volume and complexity of the information out there. We asked librarians to write to us about how Credo helps their students start their research, and this is what we heard back:
"Credo helps studetnts start their research by providing a wide range of resources," says Natalie Wahl of Leeward Community College. "This semester, our library has supported research of Epic Rap Battles, which pit characters against each other. From researching Michelangelo to Miley Cyrus, Credo Reference has been a great one-stop resource for information."
JJ Fickenworth of Horry Georgetown Technical College always recommends Credo to her students. "I have found many students do not automatically think to gather background information on a topic during the research phase. They like to start writing about their opinion and then try to find a source or two that supports their argument. By recommending Credo up front in an information literacy workshop, I can show students that background information can actually lead their paper's argument. Plus the articles they find in Credo are great sources to cite!"
Julie Renee Moore told us that, "Right now, we are hosting an exhibition called: 9066: Japanese American Voices from the Inside. In preparing this exhibition, I have found that many people do not know much about the Japanese American Internment or how it came about. This is an important part of our American history; and we need to learn our history, so that we do not repeat past mistakes. By going to Credo Reference, one can type in just about any term or names in pertinent court cases related to the Japanese American Internment, and there will be great information that floats to the surface. Credo Reference also lets users know whether or not the article that they are reading is a primary source."