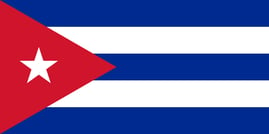 With the White House on Wednesday announcing plans to renew diplomatic relations with the nation of Cuba, including reestablishing an embassy, easing travel restrictions, and normalizing trade relations, it seems like a good time to revisit (literally or figuratively) this Caribbean nation.
Cuba - This warm island nation was Europe's first pied-à-terre in the New World after Columbus washed up upon its shores in 1492, serving as a staging ground for many exploratory missions and an embarkation point for treasure-laden ships heading back east. The concentration of precious cargo and reliance on ocean travel provided the ideal conditions for a pirate economy to flourish for centuries to come.
Havana - Cuba's largest city and capital, Havana has long been a fertile ground for writers and artists. And not just Barry Manilow, but also literary heavy-weight Ernest Hemingway and every spy novelist ever. During the French and Indian Wars, Havana fell to Anglo-American forces, but the following year it was returned to Spain in exchange for the Floridas. By the early 19th cent., the city ranked as one of the wealthiest and busiest commercial centers in the Western Hemisphere.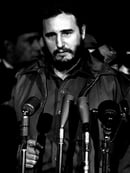 Castro, Fidel - As yet, the 88 year-old Castro has been largely absent for this transition, but he held an iron grip on power over most of the nation's post-revolutionary history. When a triumphant Castro first achieved power and gave a celebratory speech, a white dove came and landed on his shoulder. Whatever your feelings on Castro, that's a great example of how Castro's public speaking game was on another level.
Guantanamo - Site of a US naval base and prison, leased from the Cuban government at a nominal rate of $5,000 per year, money the Cuban government has refused to accept since 1960. So, free. Is it any surprise fiscal conservatives are so eager to hold onto it? It's better than a rent-controlled apartment in Manhattan.
Sugar - Along with elite Major League Baseball players and ballet dancers, sugar is Cuba's defining export.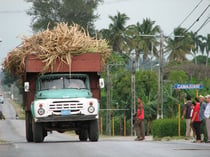 Zombies - In Max Brooks' seminal (albeit fictitious) chronicle, World War Z, Cuba is one of the few nations to thrive during the zombie apocalypse. Which is remarkable given that Cuba is an island nation of the tropics where the undead remain animated all year round. Will their preparedness be diminished by the opening up of relations with the US? Only time will tell.
Images:
Cuba Physical Map (No Legend), By Droll (Cuba physical map.svg) [CC0], via Wikimedia Commons, https://commons.wikimedia.org/wiki/File:Cuba_physical_map_(no_legend).svg
Flag of Cuba, By see below (Drawn by User:Madden) [Public domain], via Wikimedia Commons, https://commons.wikimedia.org/wiki/File:Flag_of_Cuba.svg
Fidel Castro in Washington, by Warren K. Leffler derivative work: Damiens.rf (Fidel_Castro_-_MATS_Terminal_Washington_1959.png) [Public domain], via Wikimedia Commons, https://commons.wikimedia.org/wiki/File:Fidel_Castro_in_Washington.jpg
SugarCamanjuani, By Wilder Mendez aka. Lezumbalaberenjena at English Wikipedia (Own work) [Public domain], via Wikimedia Commons, https://commons.wikimedia.org/wiki/File:SugarCamajuani.JPG